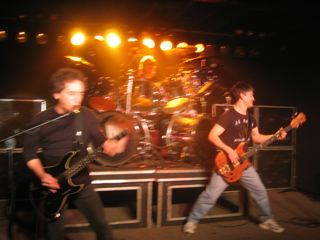 Long-overdue evidence here of the ear-shattering Winter 2005 hometown reunion gig by The Rods, featuring Ronnie Dio's cousin Rock Feinstein on guitar and vocals, Overkill/Anthrax producer Carl Canedy on drums, and molecular biologist/satin jacket king Gary Bordonaro on bass. This was a fun and freezing night — we ended up passing out in some farmhouse on the way home, too deaf to drive back to NYC.
Though nearly forgotten, The Rods blew down the walls in the early '80s on major label Arista, and later brought their sexist pro-rock shenanigans to the Combat, Roadrunner, Shrapnel, and Music for Nations labels.
Here's the full set of photos.
(Look for cameos by members of Battletorn, Iron Rainbow, and Motorhead USA in the audience, along with Charles from My Mind's Eye Records in Cleveland.)