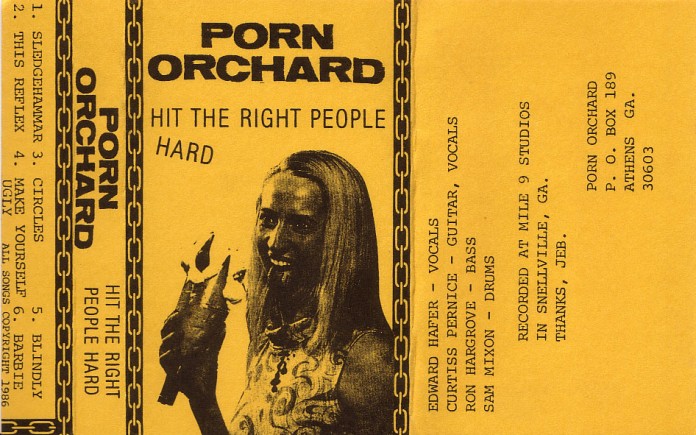 Not exactly brutal thrashing madness, Porn Orchard were an Athens, GA, hardcore band marching under the Black Flag banner, with great lyrics about social malfunctions, religion, and sex. This demo was a classic in small circles — and they spearheaded a Southern parade of unconventional metallic hardcore bands like Clockhammer and Waylaid. When I saw them at The Rat in Boston, singer Ted Hafer impressively shaved his head into a monk's dome– a sure sign of a free thinker, especially for a non-monk.
I lucked out getting this demo from one of the six North Country punks* left behind after Hafer and guitarist Curtiss Pernice split Potsdam, NY for Georgia. I believe the two bonus tracks were recorded as a three-piece with drummer Sam Mixon after their bassist split the band a year later. They carried on as a trio for several years, and made a 7″, a mini-LP, and then the Urges & Angers LP. They signed to C/Z Records for the last one, which brought them within rubbing distance of the PacNorthwest grunge scene.
Pernice might have mellowed a little over the years, he's been playing country rock with Vic Chestnutt and Lambchop for a while. Hafer is a pillar of Athens society, as he opened The Grit eathouse with his wife around the time of this demo, and after feeding half the slackers and touring bands in America, he's published a cookbook. The flavor of Porn Orchard, though, remains a spite-tinged knuckle sandwich garnished with middle fingers.
Porn Orchard – "Hit the Right People Hard" demo 1986 +2 bonus tracks
* (One of those same six Potsdam punks runs an unofficial MySpace page with cuts from their vinyl releases, and a picture of your humble narrator at age 17.)