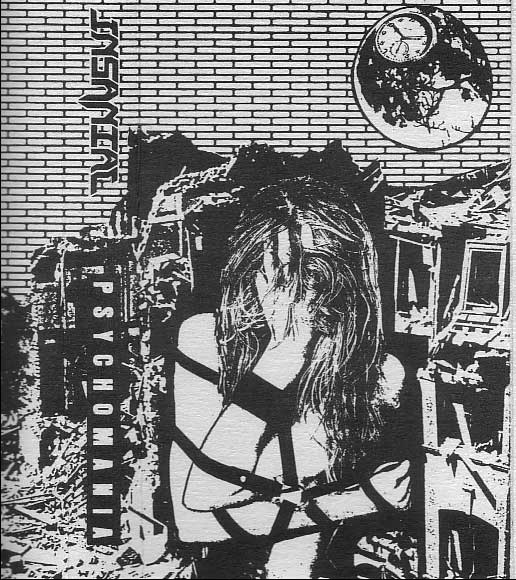 Hailing from the same New Jersey gutters that spawned Overkill, Blessed Death, Hades and then Blood Feast, Insaniac were mid-80s thrash nuts with an ambitious agenda. This demo kicks off with an 8-minute examination of mental instability, powering through countless changes as they flip schizophrenically between powerhouse thrash and classic bone-breaking HM.
The following four tracks deal with different shades of death and destruction. Despite the shabby sound quality, the band lapses often into progressive metal territory, allowing for pounding bass runs accented by shrill tremolo bar seagull cries on guitar. I think the better tracks are the short, fast "Circle of Death" and "Rabid Fire," where these metal dogs activate thrash genes so your arms can spontaneously erupt in bullet belts.
Released in 1987, "Psychomania" was their second and last demo — the cover reminds me of Napalm Death's Scum, which came a few months later. The band has probably been hiding in a fallout shelter for decades now. In the song "Quiet" they predicted the end of the world in 1998, claiming two-thirds of the world's population would die screaming. Thankfully, they were wrong about that.
Have no fear, there is one mad Insaniac fan in Holland who whipped together this Insaniac tribute site from a purple Lycos template a few years ago, loaded with cool info on the band. Probably heavily influenced by their Staten Island friends Savage Thrust — a veritable underground promotion machine — it turns out Insaniac used to publish its own mini-zine. Tattered and well-read copies of that artifact will be accepted here!
INSANIAC * "Psychomania" demo 1987 [29.5MB .rar]