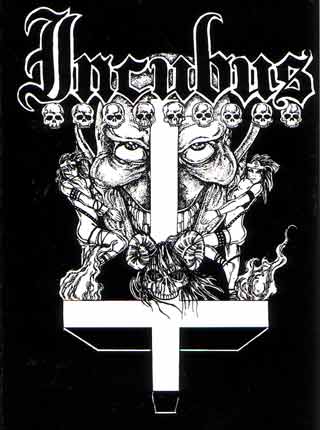 Of course this isn't the boy band Incubus, but it isn't the Louisiana act now known as Opprobrium, either. Briefly the scourge of Tampa, this demo is the product of ex-Morbid Angel members Sterling Von Scarborough (bass/vocals) and Mike Browning (drums), teamed with otherworldly hyper-trem octave wizard Gino Marino (guitars). Since if Trey Azagthoth were substituted on guitar, you'd have exactly the same line-up that was credited with recording Morbid Angel's first album, Abominations of Desolation, not surprisingly the results are nothing less than deranged and captivating.
As the story goes, Mike caught Trey Azagthoth kissing his (Mike's) girlfriend, and he peppered the lava-loving guitarist with punches. Afterwards, Mike left Morbid Angel with frustrated Sterling in tow, and they immediately formed Incubus — bringing back songs that Sterling had played in an earlier line-up with Skellator of Hallows Eve. Meanwhile Trey retreated to North Carolina, where he recruited David Vincent and resumed a new version of Morbid Angel.
So it's no surprise that Incubus uses the same grow formula as early Morbid Angel, but cultivates a different patch of swampwater. They are evil, but crazy. For some reason, I keep thinking of bonkers Japanese hardcore bands like SxOxBx while listening to "Reanimator's Mutilations" — maybe it's the bull vocals and feeling of panic. "Engulfed in Unspeakable Horror" impossibly bridges the gap between blasting intensity and spaced-out lead guitar. When they launch into full death metal mode, you might feel actual physical pain that they were only together so briefly. Three songs for posterity, then off to new visions.
INCUBUS * 3-song demo 1987 [17.3MB .rar]
Voices From the Darkside interviewed Mike Browning at length about Morbid Angel, Incubus, and his subsequent sci-fi death metal band Nocturnus; you can read that epic here. Normally I wouldn't post a demo that was later issued in commercial form, but in this case "later" was a really long time ago. If anything, hearing this Incubus tape will only drive up demand for the 7-inch version released by Gore Records back in 1989.
Now, has anyone heard from Sterling Von Scarborough since 2006?
UPDATE: CarnageDeathMetal.de features another Mike Browning interview that sheds light on a few other details of Incubus' short six-month life, including more fistfights. Most bizarre, Sterling never sang during rehearsals — the band heard his voice for the first time when they entered the studio to record this demo.
UPDATE #2: Mike Browning is still very active in occult metal, check out his current band After Death at their official site or MySpace. The intensity is way subdued, but the spirit of Incubus is definitely there. Iron Pegasus Records is issuing a collection of their demos soon.