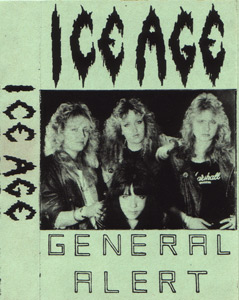 I'm putting together a Women in Metal episode of my Bloody Roots show for Sirius later this month, listening to lots of Gallhammer, Détente, Girlschool, and 13. So I guess I'm feeling extra-receptive to this fair green 1986-87 demo from all-woman Swedish quartet Ice Age.
With its stop-start songwriting and relentless melodicism the band's second demo "General Alert" is like a very tame precursor to the hometown Goteborg sound. Though their feathered hair is piled high, and their pouty faces are slapped on the cover of this cassette case, don't be distracted — Ice Age knows their metal theory. Despite carrying loads of of baggage from before the girls discovered Exodus, they patch together rollicking good upbeat metal.
The first three tracks come from 1987, and evidence more thrashisms like shoutalong backing vocals, E-string chunking, and song titles like "A Case of Cerebral Death." Sounds like the title of a Swedish crime film, doesn't it?
The final two tracks came from side II and were recorded in 1986, and are of a much more classic style. Competent Yngwie classicism and gutsy Doro wails dominate. Point these songs at your nearest Euro-metal purist and they'll gush all over you. I can't help but think that Ice Age was thrilled to discover thrash, though, so they could be part of sculpting something new instead of joining the tail end of the legions of the past.

ICE AGE * "General Alert" 5-song demo 1987 [32.5MB .rar]
The band's founder/guitarist/vocalist Sabrina Kihlstrand has launched an Ice Age MySpace page, which features a technical Coroner-esque 1989 song called "Instant Justice" that is truly astonishing. Though Ice Age traded talent across the seas and eventually recruited past and future members of Rock Goddess and Sentinel Beast, there isn't any vinyl available.
If you're looking for photos of these heartthrobs picking their noses, check an old SLAYER mag from Norway. Ice Age melted the heart of editor Jon Metali0n, dominating coverage in early issues — thus possibly delaying the second wave of Norwegian black metal for a few years? (Ha!)