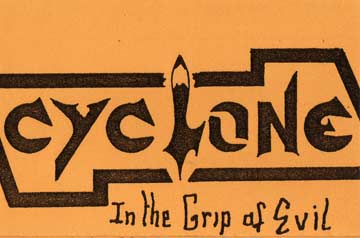 What's that thing hanging out in the middle of Cyclone's logo – a bloody disembodied foxtail? As this speed metal thresher worked its way across the fields of Belgium during the mid-1980s, I guess a few small animals were bound to be hurt.
Cyclone were pretty obvious fans of tougher British bands like Blitzkrieg and Satan — until they got the Exodus bug. Unlike a lot of their Euro-peers, they had no problem shifting gears into high speed. This three-song gem bears plenty of resemblance to Razor and Show No Mercy-era Slayer, and landed the band a deal with Roadrunner Records, who released Cyclone's speed metal cult classic Brutal Destruction the following year.
At some point the band befriended a young Christian Olde Wolbers (Fear Factory guitarist who once toured in Korn) and taught him the ways of well-brewed Belgian metal. "The guys who taught me were the guys from Cyclone," he told Lords of Metal. "Those guys were from an older generation then I was. They where THE band from Belgium, you know."
CYCLONE * "In the Grip of Evil" demo 1985 [23.6MB .rar]
There's been a flood on YouTube recently of Cyclone live videos. The unofficial Cyclone MySpace page links to several of those.