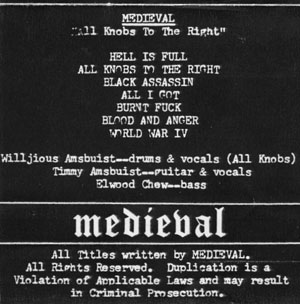 The fine burgermeister of Good Bad Music has saved me some trouble by uploading "All Knobs to the Right," the legendary second demo by Michigan's finest purveyors of proto-metal garage sludge, Medieval. Belched out of a black hole in Kalamazoo sometime around 1980, this trio spewed the heaviness of their 1970s forerunners on the fuel of Ramones, Motörhead, and Witchfinder General.
They literally came from nowhere, and tragically their greatest attempt to escape — a coveted opening slot at L'Amour in Brooklyn in its heyday — turned out to be a  long lonely van ride to rejection, as hip NY headbangers scoffed at Medieval's short hair and lack of vogue pentagram and upsidedown cross trappings. The tragedy is detailed in full in a scathing editorial in Kick*Ass Monthly, where disillusioned editor Bob Muldowney called out the "new breed posers" who worshipped Dark Angel but wouldn't know honest, powerful metal if it drove 18 hours from Michigan and bit them on the ass. In fact, I'm pretty sure the poor reception for Medieval was a major reason Muldowney soon lost interest in the metal scene and folded Kick*Ass.
In any case, the epic saga of Medieval – – Willjious Amsbuist, Timmy Amsbuist, and Elwood Chew — appears on their fine web site, MEDIEVAL KILLS. You can order new T-shirts with old designs there, too, and listen to bludgeoning new Medieval music from 2004. They explain everything pretty well, but it's still mysterious!
Here's the demo — it's off-site, so the MP3s are not in convenient .rar form. Suffer! Bonus track is Medieval's contribution to Metal Massacre IV.
MEDIEVAL * "All Knobs to the Right" demo 1984 [EXTERNAL LINK]