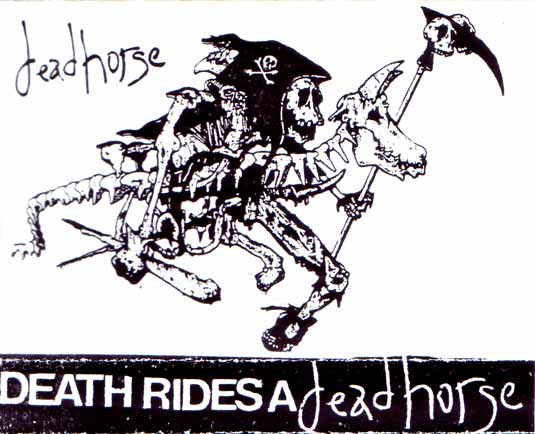 The Bang! Bang! demo rescue pile is tall and diverse, filled with early appearances of famous metal characters, integral puzzle pieces of dark history, and personal favorites that are just plain weird. And then there's Dead Horse.
Galloping out of Houston, TX, in 1988, these guys didn't fit the mold at all. They revisited S.O.D. mosh music, presaged death metal, and excelled at a kind of sloppy grindcore that seemed like a combo of Cryptic Slaughter and cowpunk. These guys were obviously listening to at least some noxious post-punk in the vein of Scratch Acid. They were outside the pastures of metal, coming up with psychedelicized visions of Satan that beat a grim resistance to the coming great fascist takeover.
Politically they stand aside Sacred Reich, but musically they ride circles around the stale thrashers of the day. Maybe it has something to do with Houston, whose contributions to hardcore punk were loop-de-loo characters like Culturcide and Three Day Stubble. In any case, this is a highly personal and visionary cult band that deserves its cult status, and here are its earliest tracks:
DEAD HORSE * "Death Rides a Dead Horse" 6-song demo 1988 [23MB .rar]
Dead Horse's two albums — Horsecore from 1989 and Peaceful Death and Pretty Flowers from 1991 — were reissued in the late 1990s by Relapse, but even those CDs run $75 when you can find them. Time to call in the ponies again for a round-up? Singer/guitarist Michael Haaga served a stint in Superjoint Ritual, so he might be available. Befriend Dead Horse on MySpace for news on the rodeo.
UPDATE: I just figured out that Entombed do a very faithful cover of "Scottish Hell" on the 1999 album Uprising.