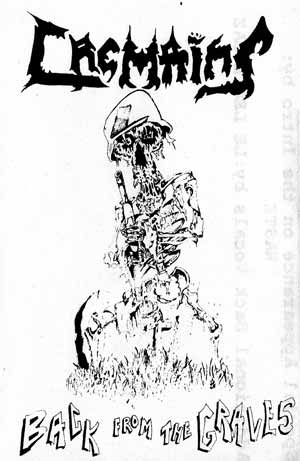 One of the first futuristic necro-tribes spawned in the wake of Voivod's mid-80s ascent from Montreal, the thrash squad Cremains combined the Voivod vision with a chunky Crumbsuckers sensibility. A five-piece featuring two sets of musical brothers, they played a lot of regional shows around 1987. I saw them opening for the Accused, and also caught them one afternoon at a matinee moshfest in the upper floor of some office building. I had to leave early — the famously violent Montreal skinheads in the house seemed to be randomly pummeling longhaired metalheads, and I didn't want to become an American hamburger.
As far as I know, this demo is Cremains' only output, and it's a shame. The vocal delivery of Chris Eldridge is unique, foreshadowing the weird mystical approach of Sylvain Houde in early Kataklysm. Most of the songwriting is furious thrashcore with loads of interesting changes, but there are moments like on the anthemic "Nuclear Carnage" that resemble the black metal overkill of Pure Holocaust-era Immortal. This is a very cool demo, and although not influential due to its obscurity, it should have been.
CREMAINS * "Back From the Graves" demo 1987 [33MB .rar]
The Quebec metal scene remains an insular and overlooked hotbed of technical aggression, spawning bands over the years like Voivod, Aggression, Martyr, Obliveon, Anonymous, Kataklysm, DBC, Soothsayer, Dying Fetus, and Groovy Aardvark. Check out this huge list of bands and links on DEADSTATION Quebec.