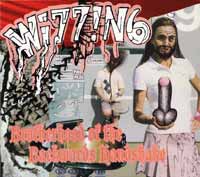 This notice isn't for all of you, only the self-selecting few who appreciate Sun City Girls, Trial of the Bow, Tribes of Neurot, Borbetomagus, the Lotus Eaters, and other noiseful worshippers of shaken shahkras. I have a few slick digipak copies of the new Willing CD, Brotherhood of the Backwards Handshake, available to gross up and slime your dimension for $12 postpaid via PayPal to storesATsoundofthebeast.com.
For example:
04. Contacted for Multiple Headbirth
"The best Evolving Ear release ever." — Evolving Ear Music
"a dozen tracks of divine madness" — Paris Transatlantic, Summer 2007
We've had a long and obscure career, touring with Harry Pussy, lending ourselves out to Glenn Branca and Peeeessssssseeeeye, and sometimes annexing members of Fushitsusha and Sunn 0))). Enjoy the slow, and get in touch if you need one.