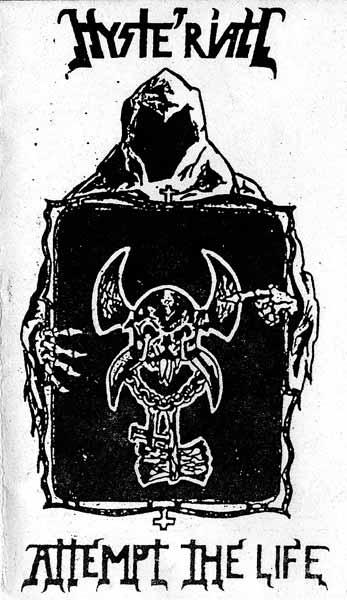 Great news in Grimpoint today, as it looks like my publishing imprint Bazillion Points will be printing the amazing Swedish Death Metal book in North America during 2008. Hold all calls — more details to come.
For now, let's talk about the run-up to Swedish death metal, when Sweden suddenly filled with energetic, evil-obsessed thrash acts that went largely unnoticed outside Scandinavia. One my favorites is Hyste'riah from Landskrona, who were fluid, supple thrash masters with the weirdest vocals this side of early Bathory. I think the closest description I can muster is the guy sings like the ghost of Nuclear Assault's John Connelly, banging against the barn windows while the band inside makes hay.
Guitar-wise, Hyste'riah is completely in the pocket, as the old jazz guys used to say. They plumb mid-paced thrash grooves to hypnotic effect, and it's fun to play a game called "death metal dress-up" where you mentally start adding sicker vocals and thick Sunlight production until you make the connection to Entombed's famous sound. Small surprise that Hyste'riah's guitarist Cliff T, aka Klas Ideberg, is still a force in Swedish metal, generating gruff grooves to this day in Darkane, the Defaced, and Terror 2000.
HYSTE'RIAH * "Attempt the Life" 4-song demo 1987 [22MB .rar]
This tape was recorded on 26 Nov 1987. The following year, Hyste'riah briefly joined forces with the singer of God BC, briefly existing under the cryptic moniker Hyste'riah GBC. Yet alas, Sweden was not destined to earn its metal oats during the thrash epoch.