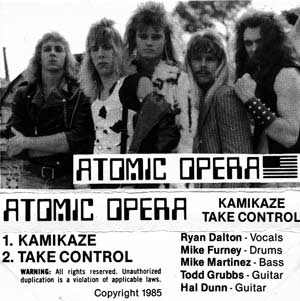 I reached for a '90s death metal demo, and instead grabbed this winning example from 1985 of what can only be called the NWOFHM: New Wave of Floridian Heavy Metal. One look at the stylish swathe of leather, ripped shirts, suspenders, mascara, mustaches, fur, animal prints, studded armbands, and 1930s gangster jacket above tells the whole story — this ain't no Molly Hatchet!
While the unheard Atomic Opera didn't pack the punch of Avatar, or the shock value of Nasty Savage, they were only a few notes short of deserving a spot on a Metal Massacre comp. The two brisk tracks on this well-performed demo, "Kamikaze" and "Take Control," sound like the earliest Anthrax demos, or the stuff that ended up pressed on countless UK 7″ singles during the early 1980s.
ATOMIC OPERA * 2-song Demo 1985 [11.4MB .rar]

Good times! But where are they now? I'll leave it to factkeepers of the Internets to comment below on the future exploits of vocalist Ryan Dalton, drummer Mike Furney, bassist Mike Martinez, and guitarists Todd Grubbs and Hal Dunn.
Thanks again, Umlatta!