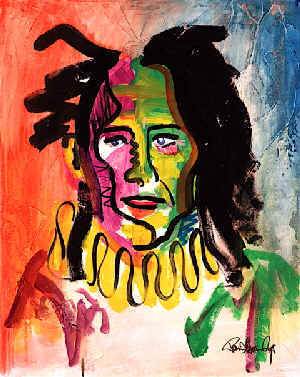 Paul Stanley of Kiss is going through his "blue-fauvist-whee-this-is-fun" period as an artist. It's fun to watch a creative spirit grow and learn — but maybe he should stick to painting Gene Simmons' faces with white greasepaint. This self-portrait of himself as a sad clown with half-dreadlocks and a shaved stripe down the center of his head makes me shiver all the colors of the rainbow. Maybe there's a thrift store in Belgium that sells moldy Kiss vinyls and bad paintings in the same section. They need this. Fans with $30,000 left in the bank — though no true Kiss fan has that much left at this point — can peruse this and other Stanley paintings of hearts and peace signs HERE.
GOOD NEWS! Adrian Vandenberg is a painter, TOO.
Somebody call Lars Ulrich!