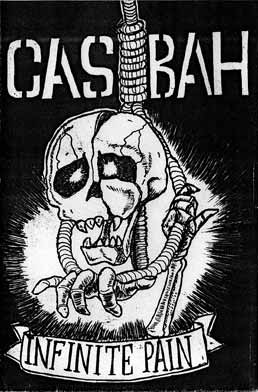 If the name Casbah doesn't summon images of zealous Japanese thrashers dressed in camo fatigues, you aren't alone — the band has become one of those scene UFOs that grizzled tape traders swear they saw in the stars one night between dubs. While metallic Japanese hardcore like Rose Rose, Gudon, and SxOxBx made a mark on history, the slightly more evolved Casbah never gulfed the Pacific in the same way. They certainly had all the connections, but for whatever reason an American or European record deal eluded them.
But burning brightly on the demo scene is nothing to sneeze at. I'd bet money that Shane Embury has dreams that he's playing bass onstage with Casbah in Japan in 1987. The catalytic title track to this tape sounds exactly like Napalm Death's first forays into structured metal a couple years later. And then the excellent "Chain Gang — featuring the joyous nonsense lyrics "Chain gang! Make it spang!" — could be an Arise-era Sepultura demo, except Sepultura at this time was still hammering out crude death metal. Casbah were doing the heavy lifting, fusing together underground influences right and left to create an irresistible and angry new kind of power thrash, no doubt about it.
CASBAH * "Infinite Pain" 4-song demo 1987 [26MB .rar]
Japan's B.T.H. released the archival double-CD Russian Roulette in 2005, containing this tape, Casbah's first demo and rare 2-track "Russian Roulette" 7″. Casbah's frontman, letter-writing tsunami Taka Hatori, is still "trespassing on you" in the band Outrage. Also, Casbah are not unknown on YouTube.
But I almost forgot! As you'll see when you unpack the download, this demo features awesome gatefold artwork by bassist Kouichi Mitani, pretty unique in the crossover world. Paul Stanley's got nothing on this guy!