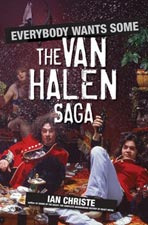 My book Everybody Wants Some: The Van Halen Saga shipped from the factory this morning, so in a few days all my questions will be answered, along with everybody else's. I talked to Kevin Estrada today, one of my collaborators. He's a lifelong Pasadena/Burbank native who took most of the amazing photos in the book, some of them when he was 12 years old. I'll post a couple previews in days to come.
My publisher already posted of excerpts the text, so help yourself to:
CHAPTER ONE: THE IMMIGRANT SONG [This covers 1920 to 1970!]
INDEX [from Abbott, "Dimebag" Darrell 266-267 to ZZ Top 17, 20, 24, 32, 50, 189, 195]
And so it begins…
"Like the stories of other great Americans from Henry Ford to Walt Disney to Fievel the Mouse, the saga of Van Halen begins in an ancient land, far from the United States and its constant supply of hot water and electricity. As a narrator would say in the old movies: Among the windmills, tulips, and wooden shoes of lovely Amsterdam, Holland, there once lived a kindly musician named Jan van Halen…"
Visit the Amazon page or VanHalenStore.com to lay down your bread. Thank you!