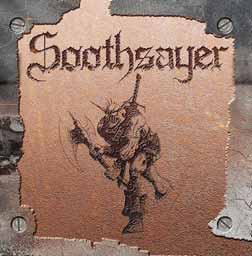 Foiled again! But that's perfectly okay — I'm happy whenever a band or label wakes up and takes care of their own demo tape treasures. Canada's proud maple leaf metal purveyors Galy Records have reissued Soothsayer's 1986 speedcore classic To Be a Real Terrorist demo. Bonused with a suite of seven live songs recorded at the Montreal Spectrum in April 1987, the package also boasts testimonials by peers like Wehrmacht, Sacrifice, Aggression, Old Lady Drivers, and Slaughter, lovingly tucked into a montage of flyers and vintage photos. Now if Municipal Waste covers one of these songs and takes the band on tour, justice will be complete.
SOOTHSAYER – "Build the Terrorism" from To Be a Real Terrorist [MP3]
Be a real pal, order a copy directly from the band HERE. If you're quick and lucky, you might also catch a used copy of the Quebec City quartet's 1990 New Renaissance release Have a Good Time.