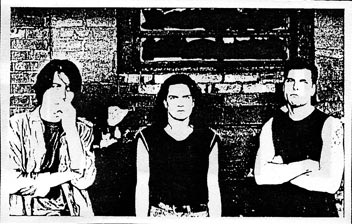 Before the drum machines, remixes, and guest appearances, Prong was a very lonely metalcore trio from the Lower East Side of New York. Forget about Anthrax and Overkill — theirs was the New York City of Tompkins Square police riots, Warzone, art/noise, and urban decay. While hatecore groups like Sheer Terror and School of Violence were running back and forth between the metal and hardcore neighborhoods in 1986, Prong were squatting on something special and different. There was something extra burning in their ashy skulls.
For one thing, they had non-metal pedigrees. Drummer Ted Parsons dealt the death beats on the Swans' Holy Money, one of the slowest and most grating industrial LPs ever. Bassist Mike Kirkland came from the strange hardcore band Crawlpappy, who later lost John Stanier to Helmet. Prong's bandleader, Tommy Victor — on dissonant guitar and hoarse vocals, was musically damaged in the extreme in every direction after tending soundboard at CBGBs for a semi-eternity.
Out of step with any thrash trends, Prong came into the speed/thrash/core game sounding like an unholy fusion of early Sonic Youth and Megadeth, and the world slowly took notice of well-rusted songs like "Drainpipe" and "Dreams Like That." I wish more bands adopted the influence — the caustic, open-ended Prong sound is the main reason Fear, Emptiness, Despair is my favorite Napalm Death album.
PRONG * 7-song demo 1986 [21.9MB .rar]
After two self-released outings of grating metal scrape, Prong signed to Epic in 1990 and soon found a new course as a sort of groove-laden rhythmic Killing Joke interpretation for the Metallica generation. They thrived on the periphery of the heavy music world until the late 1990s, then disappeared for several years, until Tommy Victor resurfaced recently with a new trio featuring Madonna sideman Monte Pittman sporting a nice trampy beard. You can download the track "The Banishishment" from the new Prong HERE. Meanwhile, Ted Parsons is now drummer in Justin Broadrick's post-Godflesh dream/drone band Jesu.
So everything's turned out well — except Tommy Victor still owes me $20.