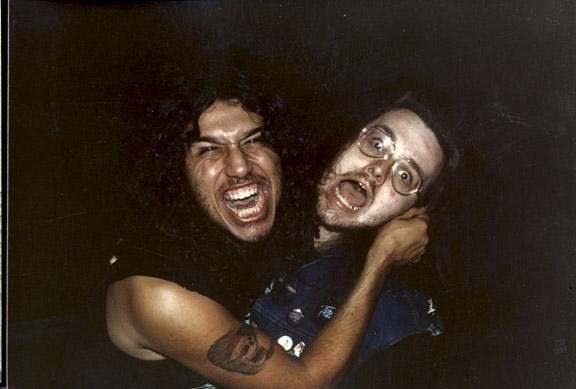 Ulrich, Muldowney, and Zazula, circa 1984
Bob Muldowney, former editor of the pioneering independent metal magazine Kick*Ass Monthly, died Monday, November 5, 2007 after succumbing to heart muscle disease.
It's hard to call him simply a mentor or a hero because his contributions to heavy metal were so immense. Armed with an innate sense of heaviness, he almost single-handedly drove the fissure between mainstream "poser" metal and valuable "power" metal in the early 1980s, helping to create a realm where Metallica, Slayer, Exciter, Celtic Frost, and others would thrive. He championed Hellhammer, Bathory, Medieval, and hardcore punk when it was noxiously unfashionable, and changed the framework by which metal was judged.
He was notoriously opinionated, and HATED Mercyful Fate and its singer, whom he dubbed "Queen Rhinestone." I have a Fate bootleg where the crowd incredibly chants "Queen Rhinestone sucks" between songs — a measure of Bob's influence. He folded Kick*Ass at the top of his game in the late 1980s, allowing Metal Forces to take over his turf. Even the full staff of that legendary metal resource couldn't fill Bob's shoes.
Bob responded to an earlier Bang! Bang! blog post about Medieval, confirming that this telling of his exit from metaldom was accurate: "[Medieval] literally came from nowhere, and tragically their greatest attempt to escape — a coveted opening slot at L'Amour in Brooklyn in its heyday — turned out to be a long lonely van ride to rejection, as hip NY headbangers scoffed at Medieval's short hair and lack of vogue pentagram and upsidedown cross trappings. The tragedy is detailed in full in a scathing editorial in Kick*Ass Monthly, where disillusioned editor Bob Muldowney called out the "new breed posers" who worshipped Dark Angel but wouldn't know honest, powerful metal if it drove 18 hours from Michigan and bit them on the ass. In fact, I'm pretty sure the poor reception for Medieval was a major reason Muldowney soon lost interest in the metal scene and folded Kick*Ass."
And then he was gone for nearly 20 years. Writing Sound of the Beast, at least a dozen interviews with Lars Ulrich, Ron Quintana, Brian Slagel, Tom Warrior, and so on ended with them asking me if I'd managed to locate Bob. It's been great getting back in touch with Bob since he's been more social in recent years, and talking about carrying on the KAM legacy in some way. This is like losing an older brother. I didn't know his metal heart was straining the whole time.I used to call Bob up in the middle of the night when I was an obnoxious 14-year old, and bug him about metal for hours. He was always totally patient, totally funny, and stuck to his guns concerning his highly-opinionated convictions. I owe Bob for turning me on to Hellhammer, Overkill, Bathory, Medieval, Sodom, the Accused, not to mention Discharge and GBH — and of course, the dubious Satan's Penis. His respect and integrity meant everything — check the thanks lists on your old tattered Kill 'Em All and Show No Mercy albums.
Rest in Peace, 'banger. I know you're doing Three Stooges routines down there with Rhett Forrester and Guy Speranza.
KICK*ASS MEMORIAL/MYSPACE LINK
UPDATE: This sad news has reached the crystal castle of Lars Ulrich, and thoughtfully he contacted Blabbermouth.net with condolences. Says the Danish drummer: "Bob was one of the early believers in the cause, the metal cause that we all championed and that we all were inspired by. Later, we were fortunate enough that Bob also became a believer in the 'Tallica cause and we in return were inspired by his belief in us and his championing our cause. Bob will be missed…"