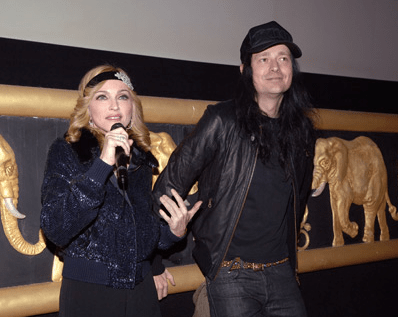 My work on publishing the US edition of Daniel Ekeroth's amazing Swedish Death Metal is almost finished. I'm starting to worry about where I'm going to keep a few thousand heavy black books, though I'm confident I won't need to store them for very long.
I guess it's not surprising that so many figures from the glory days of Swedish death metal have grown up to be part of Sweden's cultural elite. The scene was such a creative wellspring, and the participants so young. One truly boggling transformation, though, is film director Jonas Akerlund (see above, dyed black hair), former Bathory drummer. Yes, it's true, after amassing a list of music video credits for Metallica, U2, the Smashing Pumpkins, Moby, the Prodigy, and Madonna (see above, dyed blonde hair)–not to mention Volkswagen and Ikea ads–Akerlund is now directing Dennis Quaid in The Horsemen, due this April–just in time for the release of Swedish Death Metal!
The one sure surviving member of Bathory, Akerlund spoke to Sweden's Expressen paper after the passing of bandleader Quorthon in 2004: "People like Marilyn Manson, Billy Corgan, and the members of Metallica have all come up to me and have told me that they listened to Bathory."
But what about Dennis Quaid?