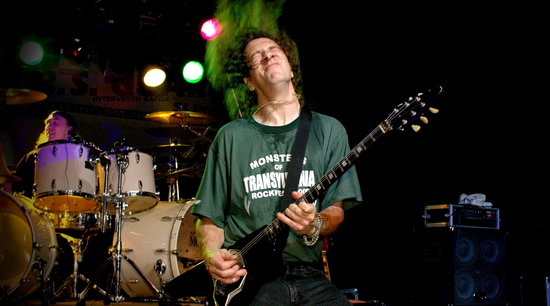 For some glorious reason, I thought Sam Dunn was following up his Metal: A Headbanger's Journey metalmemoirmentary with an documentary on Anvil. I was wrong–he's living out every Canadian rock kid's dream and following Rush around with a camera. But I didn't completely make up the Anvil part. First-time director Sacha Gervasi has captured 90 mins of life inside the Anvil, titled Anvil! The Story of Anvil! and it will debut on the big screen this month at Sundance 2008.
Not everything Anvil has accomplished after 1984's Forged in Fire has been a triumph, and this film may not be. There are unlimited pitfalls along their road of rags-to-rags heavy metal excess. But as director Gervasi roadied for the band as a 15-year old, and his main cinematic inspiration was Withnail and I, there's reason to think this could be peachy, not smarmy. Make no mistake, Toronto's hardest metallic export are still a ferocious live band, it's just the career part that is pathetic and ripe for exploitation.
Now that every second-grade metal fan feels entitled to deconstruct Metallica, it's popular wisdom that they stole most of their ideas from Diamond Head. Not exactly true. There are a plenty of similar riffs between Lightning to the Nations and Kill 'Em All, but Diamond Head's ultra-clean and mid-tempo songs are definitely not the only key to understanding thrash metal's origins. Metallica, Slayer, Anthrax, and many others were all engaged in a day-to-day struggle with a world full of metal contenders, including Exciter, Mercyful Fate, Venom, and Toronto's fearsome pounders Anvil. If in retrospect Diamond Head provided the riffs, even at the time it was clear that Anvil offered the crunching sound and pulverizing tempo. For a brief time, Lars Ulrich and frontman Lips from Anvil battled in the press over the rhythm-heavy double-bass Flying V-laden sound. Now, many millions of albums and 30 years later, Anvil merely fights for shreds of recognition.
But once they were funny AND menacing! With red leather bondage gear and Lips' patented electric vibrator guitar solos, they championed metal lunacy. The laugh nerve has been severely compressed in them for a long time, but here's hoping it looks very much like director Gervasi can avail has availed the awesomeness.
Trailer should eventually appear HERE. And devotees and casual observers alike feel free to send your reviews here to BangBangBlog.Info, thanks.
Sundance screenings:
Fri. January 18, 5:30pm, Library Center Theatre, Park City
Sat. January 19, 9:00pm, Tower Theatre, SLC
Sun. January 20, Noon, Egyptian Theatre, Park City
Sat. January 26, Midnight, Egyptian Theatre, Park City
UPDATE: After Sundace, this film was widely noted as one of the festival highlights. Here's an insightful interview with Gervasi. Awesome quote, describing why culturally-elevated indie film sweepers are responding so favorably: [The effect Anvil produces is that] "these people are more authentically in their dreams then I am." 
[youtube=http://www.youtube.com/watch?v=P-1IcNu9uPM]