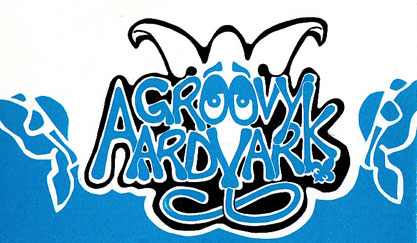 Three or four years ago, I went to Montreal a few days before New Year's, and lucked out to catch a special show at Les Foufones Electriques that was basically a giant party for Quebec's heavy music scene. Voivod played nothing but Sex Pistols covers in their headlining slot. The excellent (and sadly aptly-named) thrash band Anonymous did a killer set of early Metallica and Slayer songs, true to the ragged spirit of zits and denim, and the room went crazy. Somewhere in the middle of the night, the maestros of Groovy Aardvark played basically Jane's Addiction's entire Nothing's Shocking album–I'm sure with more power than Jane's Addiction ever did themselves. I was floored, and probably had dreams that night of arriving late to a college exam naked or something.
Turns out Groovy Aardvark has carved out a big name for themselves playing genre-bending hard-edged progressive alternative punk metal in French-speaking Canada for the past two decades. (I guess on a limited level they succeeded in creating the post-metal career Death Angel wanted when they changed their name to The Organization and started wearing paisley and John Lennon glasses.) That was all news to me; I knew them as the clean-sounding but blazing crossover act captured on this classic flawlessly executed hyperspeed funky metallic hardcore demo. Especially for fans of Spazztic Blurr, Old Lady Drivers, and similar craziness, this is the stuff–hey, Jim Plotkin's demo stack don't lie!
GROOVY AARDVARK * 4-Song Promo Demo 1989 [35.1MB .rar]
Histories of the band are pretty elusive, but it seems they formed in 1986 under the name Schizophrenic Muff Divers. Currently, the band's sole remaining founding member Vincent Peake has been moonlighting on bass for Voivod when their famous ex-Metallica bassist can't make shows.
See also: Sound of the Beast: L'Histoire Definitive du Heavy Metal