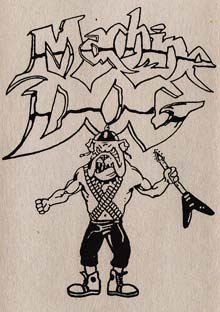 Though this tape has been the source of so much fun and fascination over the years, I have little to say about Machine Dog's obscure Sic 'Em demo. This is the first of two tapes by the trio from Cherry Hill, NJ. Both of them were excellent chasers to my preferred afternoon cocktail as an 18-year old: Southern Comfort and Peach Faygo. (Sometimes I went for cherry vodka and Cherry Coke, but that would be on a more Old Lady Drivers kind of day.) Usually you need a small mountain of sugar to pull your lips back in the uncontrollable smiles that will follow your first exposure to "No Balls," "Adrenaline Train," and "Packed in Ice." I refuse to pick a favorite–they are all comical speed metal with outrageous falsetto vocals and the tightest songwriting this side of Bugs Bunny. And do you see that mascot? Then download!
MACHINE DOG * "Sic 'Em" 3-song demo 1986 [16.7MB .rar]
The only sign of this band ever having existed is an incredible 20-song Anthology on CDBaby.com, but I couldn't preview, select, or download anything, so maybe something's wrong. The page promises that the band is working on new material–Machine Dog, if you ever play a show, I am so there.