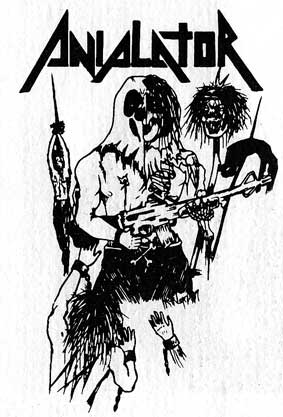 Back in the day, there wasn't enough Slayer to go around, so a few enterprising thrashers worked out how to whip up a batch of homemade Slayer-metal in the garage. One of the most successful of the Slayer clones, especially on a regional level, was Devastation from Corpus Christi, TX, who signed to Combat Records and held court over the Lone Star thrash scene from 1987 through 1991. And if your thirst for Slayer couldn't be slaked by any amount of repeat plays of Devastation's Violent Termination? Well, you could head down the street to a smaller, darker, even more cramped garage and check out fellow Corpus Christi speed legion Anialator.
For this first demo, the band was a quintet. Their leader singer left shortly after Wild Rags pressed this tape to vinyl, and in 1989 they recorded a mini-LP as a quartet (also for Wild Rags–and available as a picture disc). Bassist Alex Dominguez went on to Devastation, but as far as I know no members of Devastation ever graduated to playing in Slayer. (Just kidding, of course–the official understudies in Dark Angel would never have let that happen!)
So enjoy some derivative mystery meat processed from choice Slayer cuts during the legendary thrash metal heat wave of 1987.
ANIALATOR * 4-song demo 1987 [19.3MB .rar]
I can't explain the quasi-pornographic name spelling — after all, these guys made it to vinyl at least a year before Canada's long-running Annihilator. A little additional info is posted at Reign in Pain, including a photo of tour shirt featuring the band's great graphic depicting a bloody skull impaled on the state of Texas.