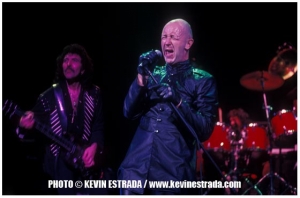 I was lucky to meet Kevin Estrada while writing my Van Halen book, Everybody Wants Some. A lifelong devotee of the band, he had been photographing them since age 12. Weaned on Van Halen, Estrada came into his own as a professional rock photographer in Los Angeles during the glory days of 1980s metal. Now we are all lucky that he's launched a blog to show off classic photos and tell charming stories about taking pictures at historical nights like Iron Maiden playing Long Beach Area in 1985, or the above shot of Rob Halford singing with Black Sabbath in 1992. Following is the unedited photographer's note I wrote about his exploits, a shorter version of which appears in my book.
LINK TO THE KEVIN ESTRADA BLOG
PHOTOGRAPHER'S NOTE
[Unedited text from Everybody Wants Some: The Van Halen Saga]
Photographer Kevin Estrada, who took most of the rare photos included in Everybody Wants Some, deserves special thanks and attention. These shots capture his lifelong infatuation with Van Halen, which began when he and his brother pooled their pocket money to buy Van Halen from a department store record bin – based solely on the band's looks. As a sixth grader, he was suspended for squirting a VH logo on the school walls with mustard packets – also as a 12-year old, he shot the photos of Van Halen's 1978 tour that appear in this book.
Raised in Arcadia, CA, Estrada grew up in Van Halen country, and the band tweaked his life in unexpected ways. Estrada was constantly bumping into his favorite band, asking them to autograph his bag of Dorito's or his ever-present Van Halen albums.A family dinner at the local Mexican restaurant Peppers once led to a chance encounter with Michael Anthony's birthday party – and Estrada's dad mistaking David Lee Roth for Peter Frampton. Later, Roth nearly ran over Estrada and his friends in his red Mercury lowrider while filming of the "Panama" video.
In high school, Estrada befriended Michael Anthony's younger brother Dennis, who supplied him with first-generation live tapes. Their principal had a signed Van Halen poster hanging in his office, which Estrada was eventually encouraged to visit without cooking up a reason to get in trouble. Estrada later took guitar lessons at Dr. Music, where Eddie Van Halen bought and repaired his gear. Eddie gave him a guitar pick and a pat on the back, but Estrada had other ideas. "All my friends wanted to be Eddie Van Halen, and I wanted to be the guy down there shooting Van Halen."
Estrada began sneaking his camera into concerts, capturing hard rock acts like Scorpions, and of course, Van Halen. "I would tape my camera to the back of my neck with duct tape, hoping the security guys wouldn't go up that far. My friend had a huge afro like Dee Snider from Twisted Sister, and he would stick my telephoto lens under the neck of his leather jacket. I also had a friend who had a really large chest, and she'd stash the lens in her blouse."
Incredibly, Estrada took most of the photos here from the audience, popping up and down quickly, keeping one eye on the band and one eye on security. When he was 15, a bouncer sent him flying across the room with a punch to the head. Other years, he got lucky – another school friend's mom worked for David Lee Roth's father in his medical office, and got tickets close to the stage. He only regrets that he could only afford one roll of film the final time he shot classic Van Halen, on the 1984 tour. "I had to be very careful that night."
Estrada now lives in Burbank, CA, with his wife and two daughters. He has photographed professionally acts including Nirvana, The Cure, and Slayer and his work also appears in Johnny Cash: From the Editors of Rolling Stone and The Heroin Diaries by Nikki Sixx
[photo caption: Eddie Van Halen's cigarette butts. "I was talking with Eddie and he was chain-smoking. When he left, I just picked them up and grabbed them. When you're a kid, that's like having the shirt off his back."]