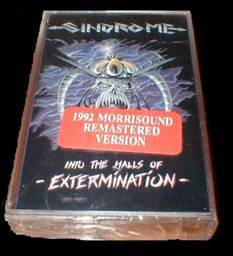 In the heat of the late 1980s thrash demo trading fever, yes, it was possible to have a super-group of members from bands that were little more than demo acts themselves. Chicago area deathly thrashers Sindrome arrived with much fanfare in 1987, boasting formidable studio sound that rivaled most thrash vinyl of the day, a swanky color cassette cover, and a laundry list of resume credits that included legendary underground names like Master, Deathstrike, and Devastation (IL). That first demo "Into the Halls of Extermination" launched an impressive underground career — most bands today would love to sell 10,000 of anything — on the basis of tough, Dark Angel-style thrash with a corroded Venom influence and even some touches of Terrorizer. (And why not? Terrorizer were highly indebted to Master, Deathstrike, and Devastation.)
Though Sindrome were in touch with the times commercially and musically, nothing more happened. They sat out the first wave of small potato record label offerings, but failed to land an expected plum spot on the Combat or Roadrunner roster. Four years later, there was another demo, "Vault of Inner Conscience." They were still better than lots of signed thrash acts, and a little more interesting, but for whatever reason — inflated expectations, poor timing, geography — they never managed to release a full album.
Fortunately, in 2002 someone from the band registered the Sindrome domain and uploaded full MP3s of Sindrome's "Into the Halls of Extermination" and "Vault of Inner Conscience" demo tapes. The first demo was remixed in 1992 at Morrisound and re-released with a new cover — this is that version.
SINDROME * Complete 1987 and 1991 demos [EXTERNAL MP3 LINK]
Since 1992 there isn't much to report. Bassist Shaun Glass went on to death metal stalwarts Broken Hope, then formed the alterna-metal act Soil in 1997, and recently left Soil for the more aggressive Dirge. Farther from the bright lights, Sindrome drummer Tony Ochoa plays in an aggressive modern rock-type band called Servitude.