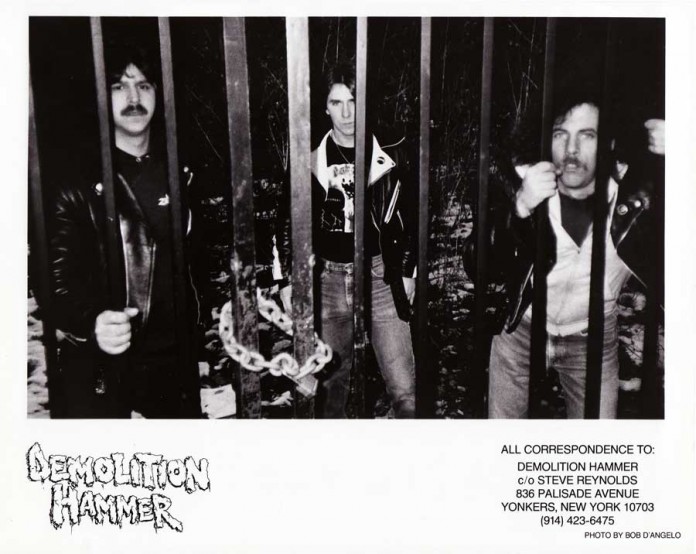 By 1988, thrash metal was already at peak cruising altitude. Reign in Blood and Master of Puppets were widespread, all the ragers had signed to majors, and every old school metal band from AC/DC to Judas Priest rushed to squeeze moshpits into their videos. Though the underground had already started to turn towards death metal and grindcore, you could argue that some of the finest thrash metal bands were just surfacing. Bands like Coroner, Pestilence, and Demolition Hammer would go to the elaborate lengths in the early 1990s to elevate thrash–just as the floor was about to fall out from under them.
On Demolition Hammer's first demo, the trio already controlled a deathly mish-mash of speed and constant change-ups, nodding to nearby New York-area notables like Nuclear Assault, Whiplash, and a whole host of metallic hardcore bands. They wanted to match Slayer's aggression, but they had their own ideas about how to get there. For sure, these guys sound way advanced compared to the East Coast thrash demo bands of 1985 or 1986, and it's cool to hear some death metal riffs and vocals creeping into the maelstrom.
I dug up my original mail from the band, so this download includes a lyric sheet:
DEMOLITION HAMMER * "Skull Fracturing Nightmare" demo 1988 [24.3MB .rar]
Demolition Hammer flew the thrash flag late enough to have shared bills with Sweden's Grave around New York, and I heard somewhere that they managed a tour of Mexico, which makes them serious pioneers. Gone but not forgotten, this band is a prime candidate for a thrash reunion, but I haven't heard a peep about any such adventure. There is a MySpace page, though, and YouTube is still hammering out their evidence.