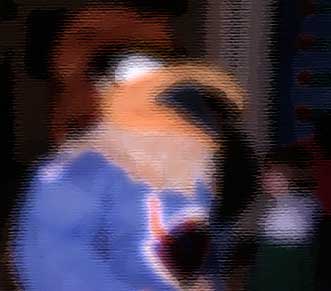 A few weeks ago, I put together a fast thrash metal episode of my weekly Bloody Roots radio show on Sirius Hard Attack, featuring Sacrifice, Fueled by Fire, Whiplash, Exumer, and others. A listener got in touch to say thanks for playing Holy Terror, and began a strange and intriguing story:
"You might be able to solve a metal mystery that has vexed me for 16 years. It was October 1992. I was 17, in my first year of college. A high school buddy had come down to LA from the Bay Area so we could catch Metallica/Guns N' Roses at the Rose Bowl. I hopped in his truck out in front of my dorm room, and he said "dude, you gotta hear this," and he played me a tasty bit of technical, somewhat melodic speed thrash metal. I asked who it was, and that's where the mystery begins. "We don't know," he said. Seems a friend of my friend's friend had found this scuffed CD on the side of the road. No case, no cover, just a disc. On the cover, goes their story, was 'some kind of a face.' No band name. No song titles. And since then I've been trying to find out who this goddamn band is."
I racked my brain, and tried a few tricks, but I can't help the guy. It does sound like Invocator, as he goes on to mention in his email, but I don't think so. There are many clues pointing to this being a band from the Bay Area: the Death Angelic vocals, the Alex Skolnik-style sweeping leads, and the Violence gang backing vocals. But half the thrashers on Earth nicked those stylistic attributes. So once again I ask: Who Are You? And this time I don't know the answer!
MYSTERY THRASHERS – "Track 2 From Mysterious Thrash Album" [6.9MB MP3]