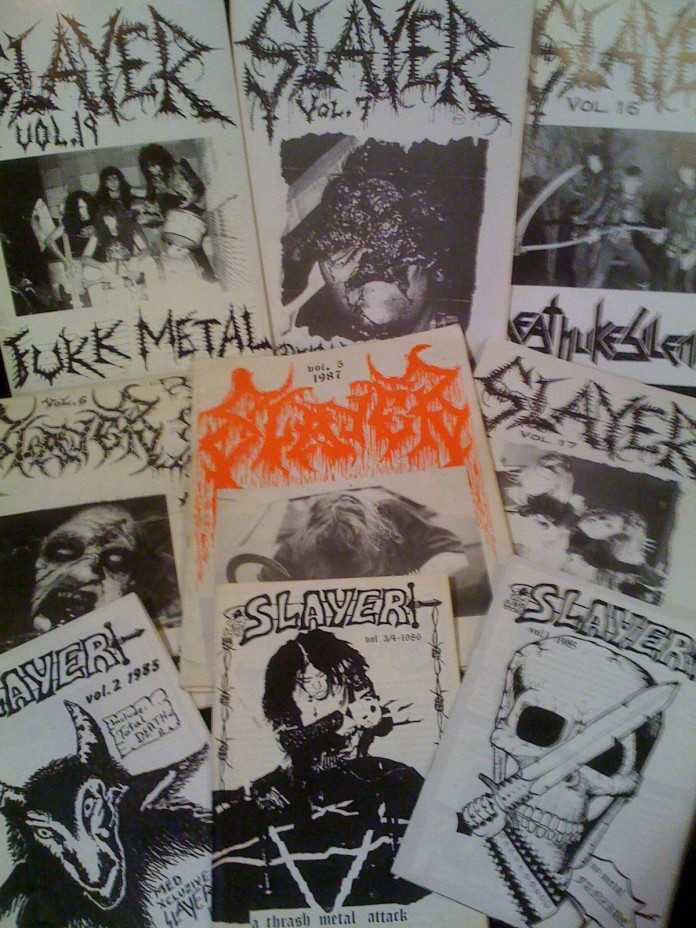 Jon "Metalion" Kristiansen and Bazillion Points books are proud to announce that work has begun on a compendium of the best material representing twenty-five years of outrage from Metalion's infamous SLAYER MAG. In addition to rare archival material unseen in decades, the book will include unreleased and exclusive interviews and artwork, historical photographs from Metalion's personal archive, and never-before-seen portrait photography taken by Metalion himself during the 2000s. More than just reprinting the unattainable 'zines, the book will explain the true untold story of long-running mag and the man behind it, as revealed by Metalion and longtime Slayer co-editor Ms. T. G. W. The epic METALION: THE SLAYER DIARIES will be available through Bazillion Points books in late 2009/early 2010.
Founded in 1985 in Sarpsborg, Norway, SLAYER MAG quickly rose to underground prominence by championing unsigned death metal pioneers, printing the earliest interviews with MORBID ANGEL, MEFISTO, SEPULTURA, NIHILIST, AUTOPSY, BATHORY, TERRORIZER, NECROVORE, DEATH, and especially local Norwegian act MAYHEM. The pages of SLAYER MAG became a written gospel for the fledgling global extreme metal underground, combining eye-ripping graphics, brutally honest writing, and a relentless and sick sense of humor.
As black metal rose to prominence in Norway in the 1990s, SLAYER MAG's nearly-confidential interviews with MAYHEM, EMPEROR, IMMORTAL, DARKTHRONE, THORNS, ENSLAVED, and countless others remain the final word on the moods and motivations of those dark times. In recent years, SLAYER MAG has driven further into the heavy metal psyche, bringing overdue acclaim to unsung pioneers like ASSASSIN, NASTY SAVAGE, and HALLOWS EVE, alongside hell-possessed maniacs such as Sweden's NIFELHEIM and Australia's SADISTIK EXEKUTION.
Says Metalion: "I always have people contacting me regarding the old SLAYERs and how to get them. Since acquiring them through overpriced Internet auctions currently seems to be the only option, I thought that this would be a better deal for the die hards and uninitiated alike. It is very important to me that this book will be widely available in book stores, it would be pointless to me if it were as as difficult to get as the actual magazines. I remember Bazillion Points publisher Ian Christe trading magazines with me as far back as 1987. When I finally met Ian face to face at Oslo's Inferno festival a few years back, he told me that he had actually seen SLAYER mascot Arne Babb earlier that day. Thus, when Ian offered me this chance to work with him, I had no doubt that this would be a great thing, an ideal partnership."
"This is not a simple reprinting of old SLAYERs, but rather a deluxe version of the previous twenty-five years with some new elements. To accomplish that, not only Arne will be with us. I have recently resurrected SLAYER MAG for at least one more issue, bringing in co-editor T. G. W., who will be my biographer for this unique book. She began collaborating with me when I put together SLAYER 19 in 2004, and when both of us contributed to Peter Beste's "True Norwegian Black Metal" book earlier this year. Her new and different perspective has proven invaluable for me in reflecting on the past two plus decades. After spending the long break since SLAYER 19 on photography education, I feel motivated to do new things now. A fire has been lit!"
Bazillion Points is "America's smallest but heaviest publishing house," founded by author Ian Christe ("Sound of the Beast", "Everybody Wants Some: The Van Halen Saga", host of the weekly "Bloody Roots" metal history show on SiriusXM). Currently in stores is "Swedish Death Metal" by Daniel Ekeroth, and upcoming releases include titles by Andy McCoy (HANOI ROCKS), Albert Mudrian ("Choosing Death"), and Jeff Wagner (Metal Maniacs).