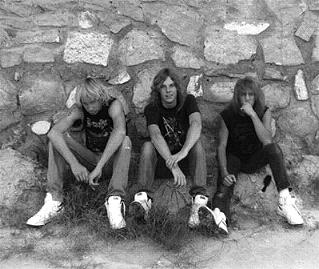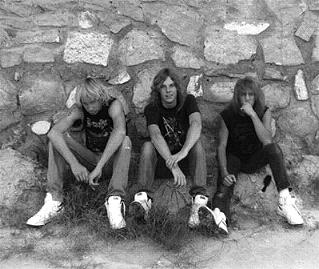 "Infernal Death was the best-kept secret in the metal scene for years. Too bad all of the band members are dead now. Email me for more details."
Or at least, so says the parked web domain infernaldeath.com. In fact, bass/vocals ghoul Paul Russ from this long-defunct El Paso, TX, crude metal trio got in touch recently with the merrily satanic band's first demo and a bunch of stories of their dirtball times.
"Just as their name was getting to be known worldwide in underground fanzines, disaster struck." Paul writes. "Paul and drummer Ben Ulrich were involved in a fistfight. Ben got a good beating, and left the band. The band was drummerless until 1991 when a drummer by the name of Gabe Limon joined. However, Gabe was never serious about making music, and the drummer position was never completely filled. Things fizzled out, and this is all that remains." He drew a crying frowny face next to that goodbye.
Well, partly to encourage other obscure ultra-satanic demo bands to send in their long-forgotten tapes, and partly because this unskilled but highly motivated melange of Sodom, early Necrophagia, early Samael (hell, early anything!), and partly because speedy Fostex/Tascam-sounding artifacts like this are in collector vogue these days, I'm going to bump Infernal Death to the front of the queue.
INFERNAL DEATH – "Incantations of the Gates" demo 1989 [26MB .rar]
As for the question of whether In Flames nicked their "Jester" mascot from this demo cover–well, you'd have to ask the guy with the tiger stripe tattoos about that.