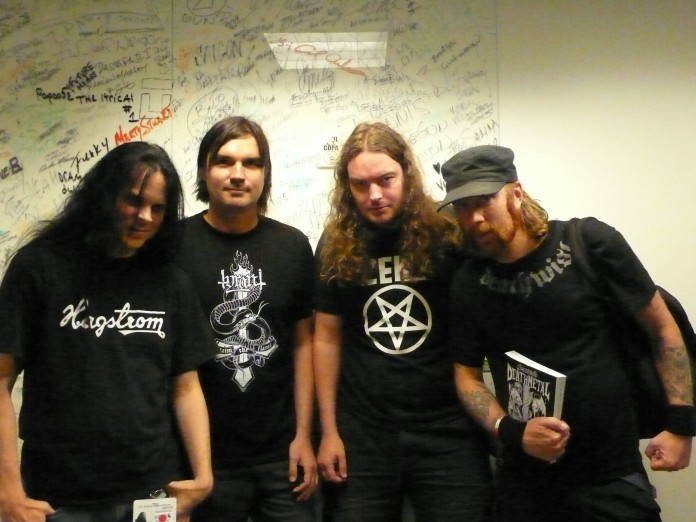 Here's a rip from the Sirius live stream of my slickly-produced July 19, 2008 interview with singer Tomas Lindberg and guitarist Martin Larsson of AT THE GATES. This has been floating around the black market for a while, so I might as well give it a legit home. Plus it's a good blast from the recent past while my Bloody Roots radio show graciously steps aside for the surprise "Mandatory Metallica" month on Sirius XM.
Needless to say, this was produced for a nation of 9 million subscribers driving around in cars, so there's a big difference in tone compared to the highly personal demo posts around here, but I hope you get a kick out of it. Regardless, At the Gates set a super-tall standard for reunion tours — I've pretty much since sworn off oldies acts.
From the Blabbermouth description: Vocalist Tomas Lindberg and guitarist Martin Larsson of the reactivated Swedish metallers AT THE GATES will appear on this week's "Bloody Roots" show on Sirius Satellite Hard Attack channel, discussing their 12-year hiatus, the decision to reunite for a number of summer 2008 shows, the rise of the fabled "Gothenburg" melodic death metal sound, and the upcoming U.S. release of Daniel Ekeroth's Swedish Death Metal book.
Highlights from the interview:
* Lindberg on the band's 1996 break-up: "We had a couple years of hard touring, and getting sick of each other on tour. Basically, if we would have been the age we are now, we could have just taken a break and chilled for a while. We were just so immature and totally at our own throats."
* Lindberg on the "Gothenburg sound": "There's a huge difference between AT THE GATES and IN FLAMES, as I hope everybody notices. We have a focus on the brutality. We're not only melody, we're a death metal band. The Gothenburg sound is to me like a non-existent entity. AT THE GATES, IN FLAMES, and DARK TRANQUILLITY, it's like three different worlds."
The interview includes music by AT THE GATES as well as Lindberg's DISFEAR and GROTESQUE and Larsson's THIS QUIET EARTH. "Bloody Roots" is a "heavy metal history lesson" airing four times weekly on Sirius Satellite Radio's Hard Attack, hosted by Ian Christe (Bazillion Points Books, Bazillion Points demoblog, author of "Sound Of The Beast").
AT THE GATES: Bloody Roots Interview on Sirius XM 07/19/08 [60 mins., 81.6MB MP3]
Playlist:
AT THE GATES – "Slaughter of the Soul" from SLAUGHTER OF THE SOUL
AT THE GATES – "Terminal Spirit Disease" from TERMINAL SPIRIT DISEASE
AT THE GATES – "The Swarm" from TERMINAL SPIRIT DISEASE
GROTESQUE – "Blood Flows From the Altar" from IN THE EMBRACE OF EVIL
LIERS IN WAIT – "Liers in Wait" from SPIRITUALLY UNCONTROLLED ART
DISFEAR – "Get it Off" from LIVE THE STORM
THIS QUIET EARTH – "Wizball" from 2008 DEMO
THE HAUNTED – "DOA" from ONE KILL WONDER
AT THE GATES – "Blinded by Fear" from SLAUGHTER OF THE SOUL
TYRANT – "Hell Has Broken Loose" from RECLAIM THE FLAME