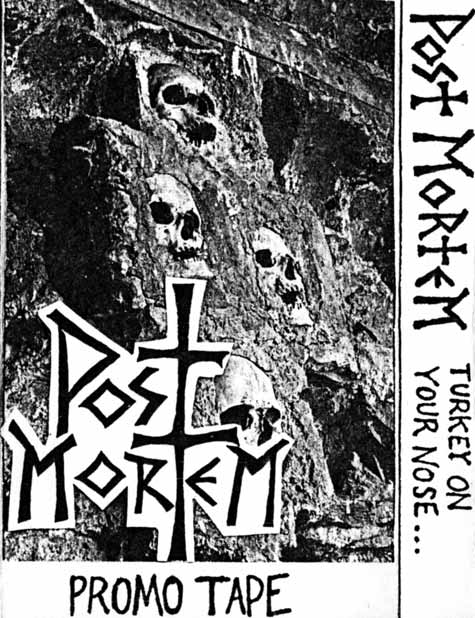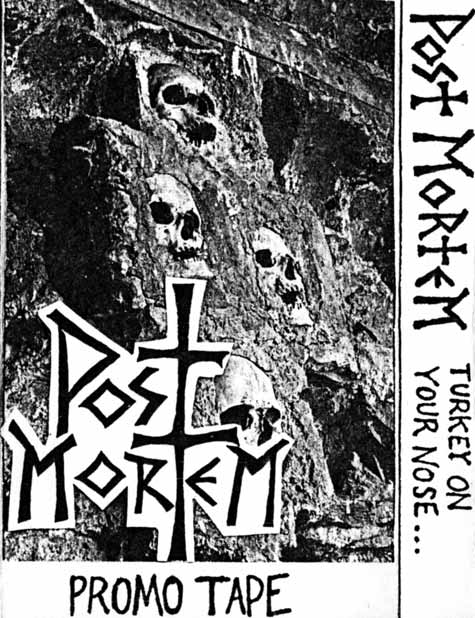 Though local wags in Boston dubbed these zoned-out punk metal thrashers "Post Boredom," this band deserves credit for digging its shallow trench for over ten years before calling it quits in the mid-1990s. At the start, they were just ugly misfits who evolved from punk to metal and played a lot of shows, both with name-brand metal and hardcore bands. By the time anybody noticed, Post Mortem had already developed a unique downer style, combining speedy Kreator-style riffing with My War-era Black Flag dirges.
This demo is called "Turkey on Your Nose," I don't want that fact to ever leave you. In a way, it is a six-minute concept demo, mediating the realms of the afterlife with three gristly thrash song poems; first "Ready to Die," then "Waiting for the Funeral," and ultimately "Armies of the Dead." If the band seemed single-minded, well.. they were. And this quick dose of deathly thrash comes across like a slow, basement version of Bazillion Points Blog favorites like At War and Whiplash.
POST MORTEM * "Turkey on Your Nose" 3-song demo 1986 [14.2MB rar]
This old Maxell cassette was really rotting — for some reason, the sound quality gets noticeably better with the second song. In theory, you can pull a better version of "Ready to Die" directly from the band, since Metal Archives claims they released a rarities CD in 2007. The Post Mortem MySpace and PostMortemBand.com don't mention such a thing, and it's possible that a slew of promised re-releases like the Coroner's Office LP 0n New Renaissance along with several other archival chunks won't be surfacing for a while.
Regrettably, John McCarthy, the misanthropic jester that fronted Post Mortem, passed away in January 2009 at age 40. Apparently, the band had reformed as a five-piece, and were recording new material. The best eulogy for his weird and tragic tale comes from About.com, of all places, who in February posted this long-as-hell look back at the creation of Post Mortem's 1986 debut Coroner's Office.
And a second R.I.P. to Michelle Meldrum of Wargod and Phantom Blue, who passed through Post Mortem long enough to contribute to the stupefyingly weird and thus great The Missing Link EP.