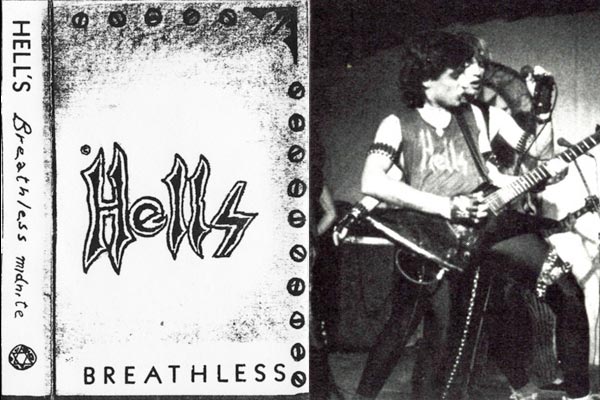 Sweet, sweet Napoli—home of pizza, Italian organized crime, and back in 1986 a devilish quintet of molten Italian metal mongers called Hell's. Their sole symbol of existence is a well-done three song demo that would have made an excellent NWOBHM 7″. The whole shebang is charming, from the hand-drawn machine screws on the front cover to the entirely unnecessary copyright symbol to the way the chorus of "Revenge" sounds like ripping—a favorite pastime of all children of giallo films. They are Hell's!
Musically, the band is rockin' metal in the vein of demo-era Anthrax or Metallica. Think of a toned-down Fistful of Metal, or maybe Satan's Court in the Act. They borrowed from Kill 'Em All but ignored the faster thrash parts and just recycled some of the songwriting, if you can believe that. Hey, these guys are from Naples, Italy—way too All in all, here's a nice clean blast of proficent heavy metal with some weird surprises.
HELL'S * "Breathless Midnite" 3-song demo 1986 [40.4MB .rar]
Here's a link (through Google Translate) to a short RockItaly.com profile on Hell's which claims they signed to King Klassic Records in Illinois, though nothing ever came of it.