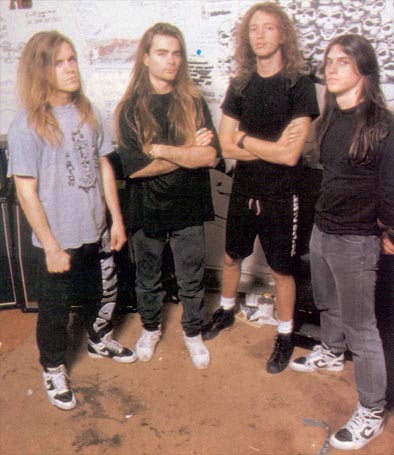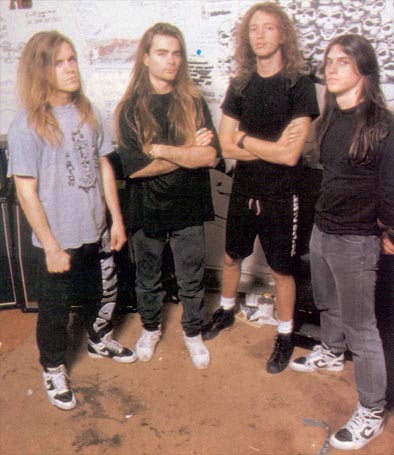 Driving around North Jersey today in the swampy August heat, delivering Bazillion Points books to various importer-exporter shipping-receiving wholesale-resale warehouses, I got to see a lot of amazing landscapes—if your idea of amazing landscapes, like mine, involve gargantuan rotting 1800s iron factories swarmed over by trees and weeds and turkey vultures. Anyway, in the car I listened to The Accüsed's brand new album for Southern Lord, The Curse of Martha Splatterhead, and I guess it transported me into a receptive place for late 1980s thrash metal.
So let's talk about Murdercar…just not the name, because making sense of that could take forever.
Returning to the office today, I found a care package of demos waiting from an unnamed source at Roadrunner Records. Keeping in mind that the Bazillion Points blog was one of the very first of a small handful to offer demos for digital download, and that this enterprise has been in action for several years, believe me that a sizable demo donation is a very rare thing! Not that it's really necessary, but it's greatly appreciated. And here arrived this afternoon an impressive array of late '80s thrash demos. So thanks anonymous Roadrunner donor.
Murdercar are the only band in the batch that I'd never heard of. Hailing from L.A., these dudes boast a running resumé that includes stints in Détente, Catalepsy, Machine Head, Sacred Reich, Juggernaut, SA Slayer, and Mercenary. We're talking career thrashers here—not the ragged death-thrashers featured in most posts around here. The demo lasts ten minutes, runs through three songs, so download it if you care at all about slick late-80s thrashing of the kind that retro-thrash bands of today don't have the skills to play or the money to produce.
Opener "Nation of Fools" rolls out the red carpet in the polished Powermad mold, but sounds much more powerful. I'd call this a non-starter in the forgettable vein of late Belladonna Anthrax or early Machine Head. But "Mirage of Blood"—surely you remember it from Metal Massacre 10, cough cough—kicks ass in an fast, fun way that slaps you around with the recollection that bands like this briefly had the hopes of appearing on Arsenio Hall in 1989. This song is thrash at its commercial pinnacle—before Metallica betrayed the hard-fought form with the Black album and bands like Helmet, Faith No More, and White Zombie scattered the fires of thrash in so many new directions.
The last song on this demo, "Glamour in the Pit," is a homophobic bunch of anti-glam bravado blessed by the couplet: "Dressing up like Sixx / I bet you all suck dicks." It rings so false, and outs the band as gay for success. First of all, Nuclear Assault destroyed Crüe with their bullseye gay bash "Buttfuck" years before this. Secondly, violent anti-poser thrash metal originated in SF, not LA, and drag queens were part of the backdrop. But most important of all, 1989 was not the year of glam, it was the year when thrash reared its upstart head and declared victory.
MURDERCAR * 3-song demo 1989 [19.8MB]
So then what happened? Murdercar went nowhere after some industry showcases (guess this tape came from the Roadrunner reject pile!), death metal took over the underground, and this band's most talented member, former Détente guitarist Ross Robinson, in the 1990s became the nu metal producer of choice for Machine Head, Korn, Limp Bizkit, Slipknot, and Sepultura's Roots. Yes, you could have stopped all that by supporting Murdercar early. Now just support the theory that I've been floating all along—bouncy '80s thrash metal like Anthrax, Mordred, Exodus' "Low Rider," and Murdercar begat nu metal. Now you know!