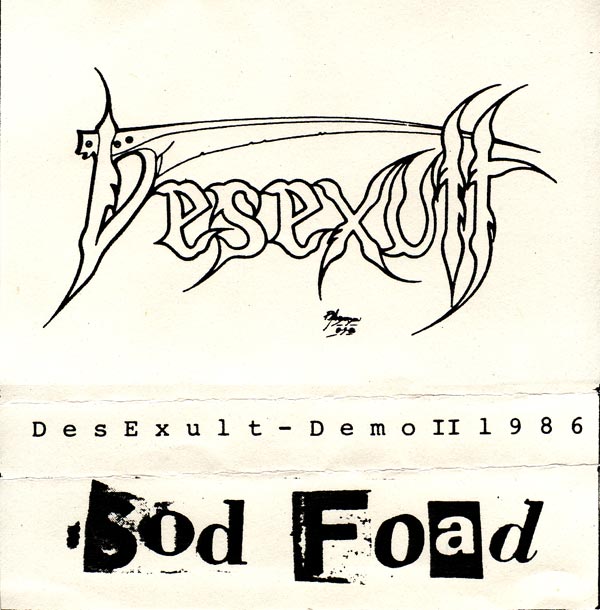 By popular demand (of a few dedicated misanthropes), here's a follow-up to the Samhain [Denmark] demo posting of a couple years ago. Within a year of releasing that "The Courier" demo, it dawned on the young Danes that the Samhain name was taken, and they switched to the snappy moniker Desexult and began besieging the world in demo tapes in earnest. This classic tape sounds excellent, and the only reason it didn't become a classic vinyl is that the band was too damn early!
The infamous "S.O.D.F.O.A.D" cassette was the original European death metal dismissal of American braggadocio, a slow, lethal, and enthusiastic arrival by a bunch of die-hard tape-trading scenesters from Denmark. They absorbed every high-grade particle of underground metal in the atmosphere, and created this cool and unique deathly thrash sound. (Make no mistake, though, these guys were originally all about the S.O.D.—they later claimed the title stood for "Should Our Demo Find Our Album Deal." Ha!)
To be honest, I didn't swoon over this band back in the day, for whatever reason. Probably the grinding mid-tempo didn't pinch my adrenaline zones hard enough. But viewed through the prism of time; good god, this is what modern ultra-underground bands today are trying so hard to emulate! Not only did Darkthrone take their name from Desexult members' legendary Blackthorn fanzine, they've spent the last ten years working on their own version of these ugly, droning and deceptively unsimple riffs.
DESEXULT – "SOD FOAD" 5-song demo #2 1986 [56.3MB .RAR]
The lead track "Evil Courier" again stirs up the rumor that these guys worked as bike messengers to bankroll their 'zine and bands. But where the hell are Henk Leviathan, Hund, Max Due, and Esben Slot Sørensen now? And needless to say, Sweden and Norway had barely any bands this good playing proto-death metal in 1986—what the hell happened in Denmark?