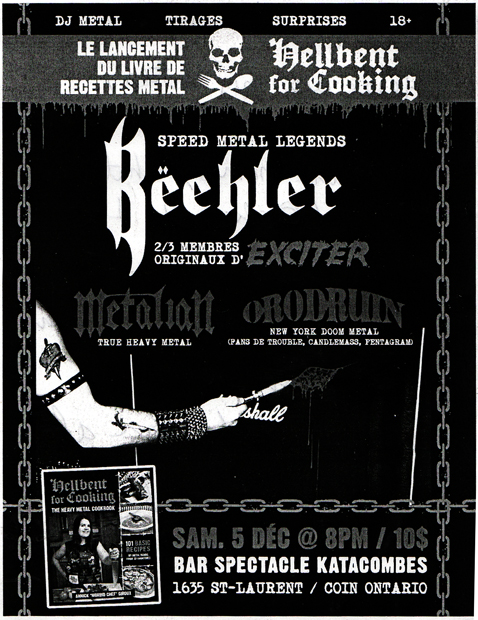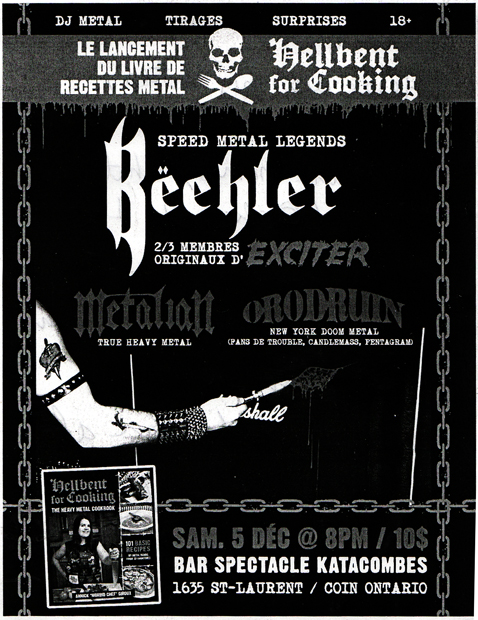 Are you in Montreal this weekend? Are you near Canada? Are you even half-alive? "Morbid Chef" and hellfire commando DJ Annick Giroux is throwing a massive metal cookbook bash at the underground Bar Katakombes [1635 St. Laurent] for the release of her latest claim to fame, Hellbent for Cooking: The Heavy Metal Cookbook.
Loud and proud entertainers Exciter Bëehler [Recipe for Disaster / Tour Bus Molotov Cocktail, page 188], the mighty Metalian, and Rochester, NY, renegades Orodruin [Witchfinder Grinder Turkey Club, page 144] will turn up the heat, while Annick mixes up a small swimming pool of Mortal Sin's potent Mayhemic Destruction Fuel [drinks, page 222]. You might want to devour Blasphemy's delectable Misanthrope's Last Supper [poultry, page 130] before heading over to rage the night away…
Response to Annick's cookbook has been enormous worldwide, from Latvia to Malaysia to Germany to Canada to everywhere else. Brazilian Playboy even interviewed the Morbid Chef. She deserves a party, so get to the Katakombes and get her a glass of Richard Christy's manly Viking Testicle [page 214].
And yes, this is completely fun but completely serious. Schmier of Destruction gave up the Pizza Tonno recipe [seafood, page 154] that was the star attraction of his restaurant for many years. "Sweet book indeed!" he says. "I hope people support that great idea Annick had! I unveiled the secret of the best pizza in the world. Customers of my restaurant would have killed to get the recipe!"