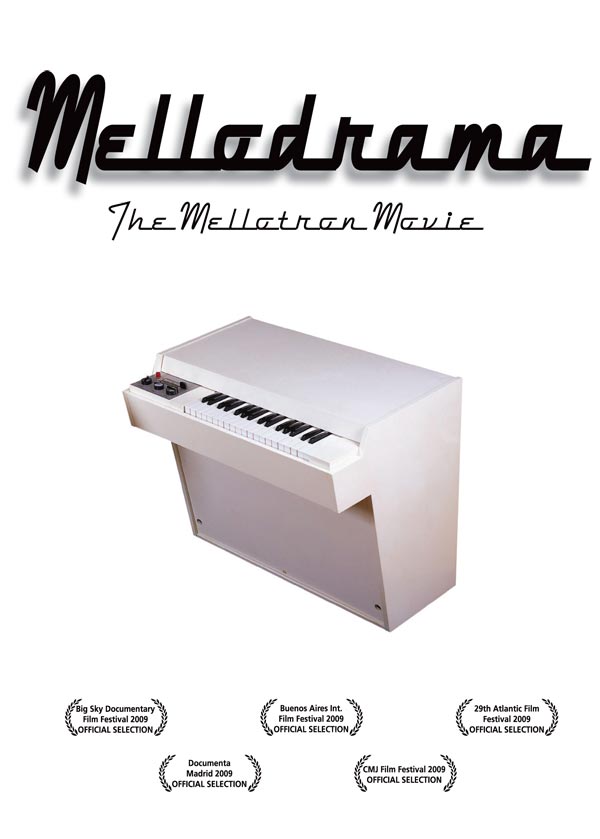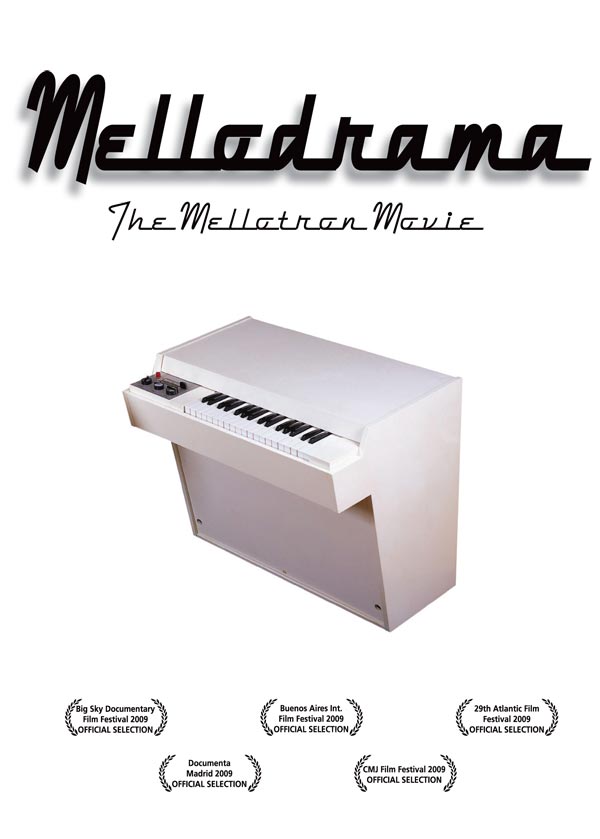 "Surprisingly fascinating." –Philadelphia Weekly
"A study in the unpredictability of innovation." – Rhizome
"An insider's view on the history of the Chamberlin and the Mellotron, which isn't always pretty." – Echoes
"The Mellotron stays cool." – Brian Wilson
"This is where sampling started." – Jon Brion
Bazillion Points Publishing is delighted to announce the long-awaited DVD release of the acclaimed and unusual music documentary, Mellodrama: The Mellotron Movie, by Dianna Dilworth, coming January 2010 in NTSC Region 0 format packed with bonus features in a deluxe Digipak.
Mellodrama explores the five-decades-long rise and fall of the Chamberlin and its better-known successor the Mellotron—the first musical keyboards to play the prerecorded sounds of other instruments. Essentially the first sampler, its haunting sound has changed the production and texture of popular music, from the Beatles' "Strawberry Fields Forever" and the Moody Blues' "Nights in White Satin," to Radiohead's OK Computer and Kanye West's "Gold Digger."
Featuring Mike Pinder of the Moody Blues, Ian McDonald of King Crimson, Brian Wilson of the Beach Boys, famed L.A. producer Jon Brion, Rick Nielsen of Cheap Trick, singer-songwriter Michael Penn, author Brian Kehew, (Recording the Beatles), as well as members of Opeth, Bigelf, Maroon 5, and former employees of the Mellotron and Chamberlin companies. While the musicians tell their tales, the engineers and experts deliver the gear porn by taking you inside the captivating contraption.
Mellodrama screened at over a dozen festivals throughout the world in 2009, including the CMJ Film Festival in New York, Buenos Aires Film Festival, Documenta Madrid, Portobello Film Festival in London, Atlantic Film Festival in Canada, Big Sky Documentary Film Festival, Indie Memphis, Tucson Film and Music Festival, and was specially programmed by Stephen O'Malley of Sunn 0))) at the Lausanne Underground Film Festival in Switzerland.
"While everybody knows the sound of the instruments, most people have never heard of the Mellotron or the Chamberlin," says director Dianna Dilworth. "I hope Mellodrama will change that."
Mellodrama: The Mellotron Movie DVD includes the 80 minute film, 30 minutes of DVD extras, and an 8-page booklet containing an essay by Mike Pinder of the Moody Blues and several illustrated machine timelines.
Preorders and more info are now available right over here: