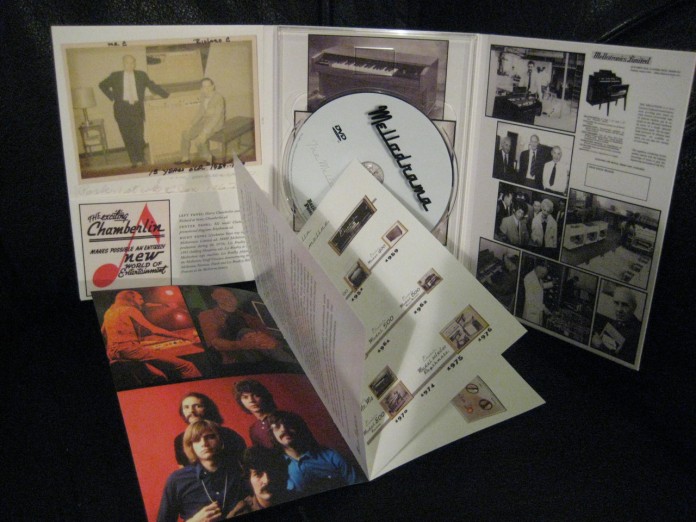 Feature-length documentary chronicles the "ancient samplers," the Chamberlin and the Mellotron keyboards, featuring members of the Moody Blues, the Beach Boys, Genesis, King Crimson, Cheap Trick, Black Sabbath, the Zombies, Latin Playboys, Yes, Maroon 5, Opeth, and many more.
Standing room only screening at NAMM drew rave reviews and a sold-out crowd including members of Bigelf, Mark Mothersbaugh of Devo, Brian Kehew (Recording the Beatles), Darian Sahanaja (Brian Wilson producer/bandleader), electronic music legend Larry Fast (Synergy), Pea Hicks of Optiganally Yours, Markus Resch of Mellotron Archives, and Michelle Moog of the Bob Moog Foundation.
Bazillion Points Publishing happily announces today's long-awaited DVD release of the acclaimed and unusual music documentary, Mellodrama: The Mellotron Movie, by Dianna Dilworth, 2010 in NTSC Region 0 format packed with bonus features in a deluxe Digipak. Color insert booklet features essay by Mike Pinder (The Moody Blues) and Chamberlin / Mellotron production timelines.
"While everybody knows the sound of the instruments, most people have never heard of the Mellotron or the Chamberlin," says director Dianna Dilworth. "I hope Mellodrama will change that."
Mellodrama explores the five-decades-long rise and fall of the Chamberlin and its better-known successor the Mellotron—the first musical keyboards to play the prerecorded sounds of other instruments. Essentially the first sampler, its haunting sound has changed the production and texture of popular music, from the Beatles' "Strawberry Fields Forever" and the Moody Blues' "Nights in White Satin," to Radiohead's OK Computer and Kanye West's "Gold Digger."
featuring members from: The Beach Boys • The Moody Blues • The Zombies • King Crimson • Yes • Cheap Trick • Black Sabbath • Genesis • Refugee • Opeth • Latin Playboys • Goblin • Maroon 5 • Moog Cookbook • Änglagård • Optiganally Yours • Bigelf
plus: Fabio Frizzi • Jon Brion • Michael Penn • Matthew Sweet • Woody Jackson • Zac Rae • Patrick Warren
During 2009, Mellodrama screened at over a dozen international festivals, including the CMJ Film Festival in New York, Buenos Aires Film Festival, Documenta Madrid, Portobello Film Festival in London, Atlantic Film Festival in Canada, Big Sky Documentary Film Festival, Indie Memphis, Tucson Film and Music Festival, and, at the invitation of Stephen O'Malley of Sunn O))), the Lausanne Underground Film Festival.
For more information, to view trailer, and see DVD details, visit:
Thank you! Any questions?