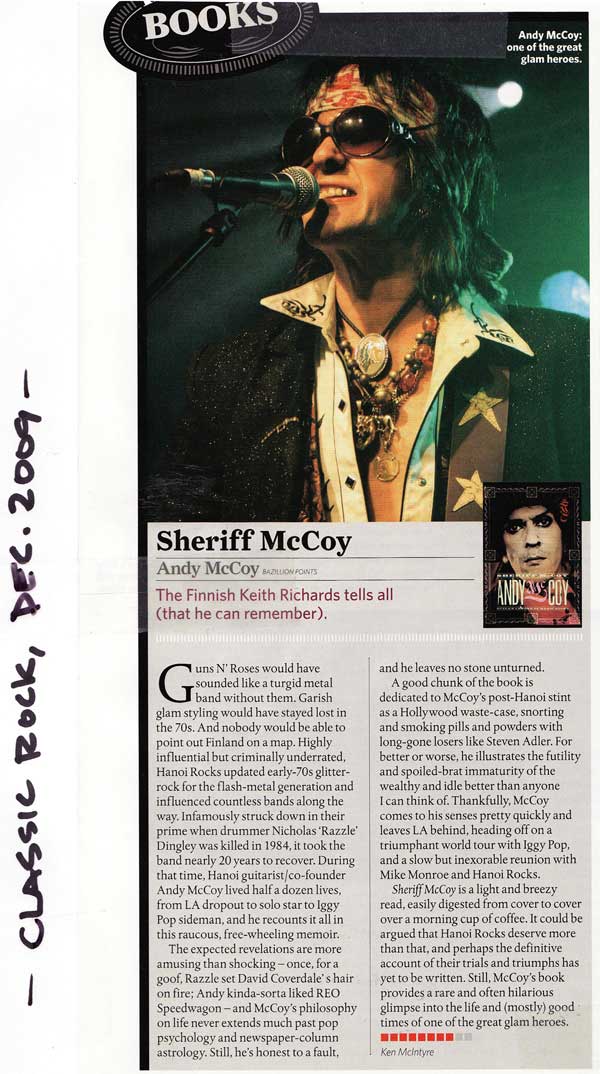 Thanks to Classic Rock magazine [UK] for setting the record straight on the Hanoi Rocks score in their recent review of guitarist Andy McCoy's autobiography Sheriff McCoy: Outlaw Legend of Hanoi Rocks.
Guns N' Roses would have sounded like a turgid metal band without them. Garish glam styling would have stayed lost in the 70s. And nobody would have been able to point out Finland on a map. Highly influential but criminally underrated, Hanoi Rocks updated early-70s glitter-rock for the flash-rock generation and influenced countless bands along the way…
Are you listening, Mötley Crüe? Poison? Faster Pussycat? Championed ceaselessly by Kerrang! back in the yesteryears of metal, Hanoi Rocks were a band extreme enough in image and quality to capture the loyalty of even the fiercest metalheads. Matt Olivo and Scott Carlson of Repulsion are fans. Fenriz of Darkthrone has a Hanoi Rocks tattoo. For me as a metal-crazed teenager, Hanoi Rocks were a window into a thousand rock bands through their incessant magpie swipes of song particles belonging to the Stooges, the Stones, the Clash, Bowie, Ramones, MC5, and the New York Dolls.
So if Sheriff McCoy seems strange to you sitting on the Bazillion Points bookshelf alongside Swedish Death Metal and Only Death Is Real, it shouldn't. Andy McCoy, Mike Monroe, Nasty Suicide, Sam Yaffa, and Razzle invented a new kind of high-energy music. They were absolute outsiders who became radical originators, and Andy McCoy remains an unpredictable spectacle, a phenomenal guitarist, and a dispatcher of great rock war stories that all the surviving witnesses swear are true.
UPDATE [03-10-10]: And Amp joins the chorus with a nice lengthy review that ends: "Sheriff McCoy is a frank, but upbeat experience, and should be required reading for all those who believe in the transformative thunder of rock 'n' roll."