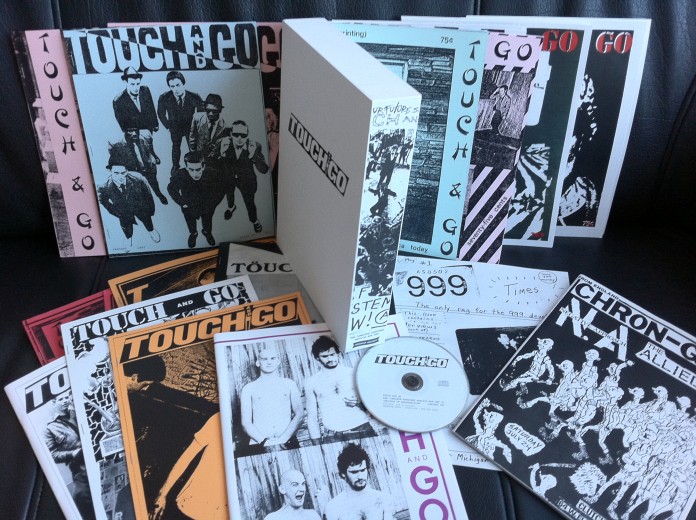 Holy historical hardcore heaven… The crazed cultural curators at Presspop Japan—producers of the Raymond Scott doll and Dan Clowes' Pogeybait doll, among other totems—have painstakingly reconstructed all 22 issues of Touch and Go fanzine and bound the bunch of them in a deluxe hard white textured box along with a unique CD compilation of tracks by Bored Youth, L-7, Negative Approach, Meatmen, Crucifucks, the Fix, Necros, and Violent Apathy.
While the rest of us were celebrating the release of Touch and Go: The Complete Hardcore Punk Zine '79–'83, by Tesco Vee and Dave Stimson, the Presspop people were busy taking great pains to replicate every staple, paper stock, size aspect, and printing method of the original American underground music zine. (Yes, the 4-page replica of the original 999 Times zine has a single staple in the upper left corner.) The book is a cultural artifact on its own now… and the original zines are unattainable.
From PRESSPOP:
To celebrate the release of the book, TOUCH AND GO: The Complete Hardcore Punk Zine '79-'83, by Tesco Vee and Dave Stimson, Presspop announces the upcoming release of a limited edition replica box set of all 22 issues of the legendary indie and hardcore punk zine. Working with publisher Bazillion Points, we have meticulously duplicated the original printing, paper, and binding of the landmark fanzines, and packaged them together with the precursor "999 fanzine", a book of historic Midwest punk flyers, and an exclusive "Process of Resurrection" CD compiled with the aid of author Tesco Vee and Touch and Go Records mainman Corey Rusk. The entire collection squeezes into a beautifully designed slipcase. Only 500 sets will be produced — get them while they last!
Touch and Go the Complete Fanzines Replica Box Set at PRESSPOP Japan
So sell a couple rare seven-inches and pick up Touch and Go, one floppy issue at a time… If you really want to recreate that great period of discovery, you can read each issue over a four-year period, exactly as the revelations unfolded in real time.
Now—each issue needs its own box set containing every record reviewed inside!