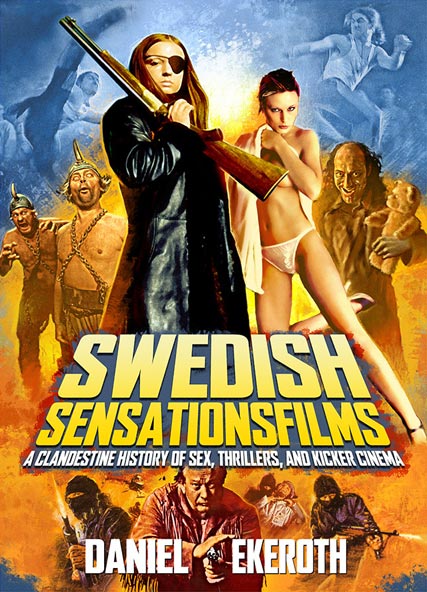 After 100 years of film censorship, on Jan. 1, 2011, Sweden's National Board of Film Classification officially disbanded, surrendering all hope of controlling the country's cinema screens. In celebration, Daniel Ekeroth, author of the acclaimed Swedish Death Metal (Bazillion Points, 2008), declares victory with his scandalous new book Swedish Sensationsfilms: A Clandestine History of Sex, Thrillers, and Kicker Cinema.
Coming this March to bookstores everywhere, this lavish 328pp paperback offers a fiery retrospective of over 200 banned and cut films produced during the golden age of Swedish sin. "Into a rising whirlwind of madness I was born," says Ekeroth (also known as bassist of Iron Lamb, Tyrant, and Insision). "As the '70s came along, all limits were forgotten. Sweden was flooded with sexually explicit and violent films of every kind, and all morals were gone."
Featuring a blockbuster cover painting by Wes Benscoter (Slayer, Black Sabbath), Swedish Sensationsfilms offers accounts by starlet Christina Lindberg (Thriller – En Grym Film, Maid in Sweden); scores of rare exhibition posters from works by Ingmar Bergman, Arne Mattson, and others; a glossary of curious Swedish customs; and an uninhibited cast of thousands, including: Stellan Skarsgård, Pernilla August, Lee Hazlewood, Dennis Hopper, Max von Sydow, David Carradine, Heinz Hopf, Harry Reems, Noomi Rapace, Marie Forså, Troy Donahue, Zinny Zan, and Ludde the dog.
Before Let the Right One In and The Girl With the Dragon Tattoo, daring Swedish films in the 1950s helped break down censorship in Hollywood, and the country's exploitation classics are praised to this day by directors like Quentin Tarantino. "I look back with genuine joy," says celebrated cover girl Christine Lindberg. "I am so very happy I could be a part of the '70s. I would never deny being in those movies. I know that a lot of people do so, but I just had a blast.
For more information, page samples, and to view film trailers, visit this location: