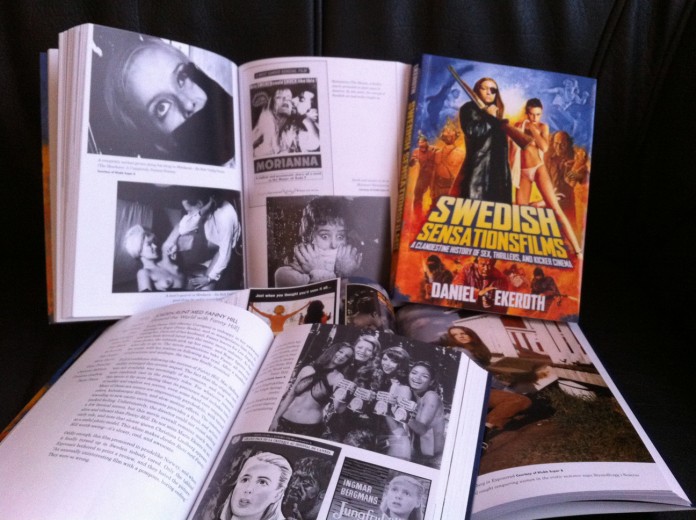 Here's a look at the new book by Swedish Death Metal author Daniel Ekeroth:
Coming April 2011: 'Swedish Sensationsfilms' Book Reveals
Naked Glory of Pioneering Exploitation Cinema
Available April 1 in bookstores everywhere, Bazillion Points Books presents SWEDISH SENSATIONSFILMS: A Clandestine History of Sex, Thrillers, and Kicker Cinema (ISBN 978-09796163-6-5 US$19.95), a lavish and fiery 328pp retrospective of over 200 banned and cut films produced during the golden age of Swedish sin. "I was born into a rising whirlwind of madness," says author Daniel Ekeroth. "As the '70s came along, all limits were forgotten. Sweden was flooded with sexually explicit and violent films of every kind, and all morals were gone."
Sweden's sexy reputation was sealed the moment Ulla Jacobsson bared her breasts for One Summer of Happiness in 1951, crushing the Hays Code and igniting a mad race to make sensationsfilms! Produced in the backyard of the Swedish film industry, these sexually daring films form a canon of countless movies dealing with shocking or taboo subjects: street punks, sadistic mobsters, space aliens, unruly housewives, ruthless drug pushers, bloodthirsty ninjas, teen temptresses, lingonberry cowboys, bearded perverts, and drunken vikings.
Working far from the confines of Hollywood, the exploits of young director Ingmar Bergman, actress Christina Lindberg, ultra-villain Heinz Hopf, free-spirited Stellan Skarsgård, and American expats like Dennis Hopper, David Carradine, and Troy Donahue have spawned a legacy that inspired Stieg Larsson's The Girl With the Dragon Tattoo, Wes Craven's The Last House on the Left, and Quentin Tarantino's Kill Bill.
With dark humor and an eye for cultural quirks that will leave readers wondering whether these films are even real, Ekeroth paints the portrait of a national cinema run amok. Special sections include two historical overviews, a recollection by starlet Christina Lindberg, a list of essential sensationsfilms, a rogues gallery of directors and cast, and a hilarious guide to curious Swedish customs.
Why does John Waters cite Ingmar Bergman as a role model? What are raggare, and why do they hate punk rockers? Can taking the name "Marquis de Sade" really change a bachelor's luck with women instantly? Why won't France or Germany make films with Sweden any more? Ekeroth reveals all… in Swedish Sensationsfilms.
For more information, page samples, and to view film trailers, visit this location: http://www.sensationsfilm.com