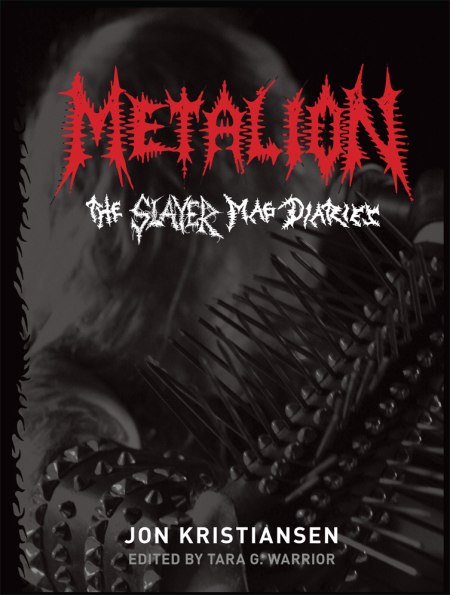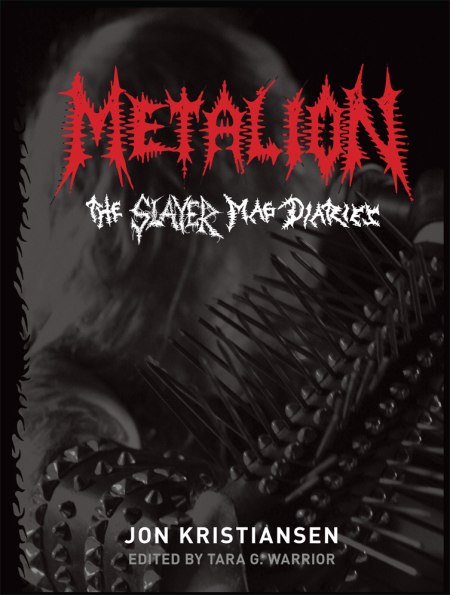 A lot of people around here have been very busy for the past several years with a lot of things, and a very large part of that has been METALION: The Slayer Mag Diaries. Well, huge lakes of ink are now being drained and vast forests of trees felled in order to create the heaviest metal book of all time. There's the cover above—here's the sweet talk below. If you've been waiting patiently or impatiently for this, then thanks and go ahead and declare all of June as a reading holiday.
Here's the scoop:
Bazillion Points Books has revealed the final cover artwork for METALION: The Slayer Mag Diaries, a mammoth 744-page hardcover journey into black metal, death metal, and beyond by Norway's metal godfather Jon Kristiansen. "The greatest heavy metal story ever told" will be available June 6, 2011, wherever books are sold, and is available for preorder now with two bonus limited patches at this location:
Part anthology, part memoir, and years in the making, METALION includes over 600 reproduction pages from every issue of Slayer Mag, spanning from the early 1980s through 2010. In addition, author Jon Kristiansen recounts his life's story, from alienated outsider to central figure in Norwegian black metal to world-weary metal survivor. The book also features over 100 rare photographs, including two color sections and a portrait gallery of photographs taken by Kristiansen himself.
The astonishing combination of archival material includes scores of key historic interviews with the most revered  figures in extreme metal, including Mayhem, Emperor, Slayer, Kreator, Nihilist, Celtic Frost, Bathory, Cathedral, Entombed, Morbid, Napalm Death, Metallica, Opeth, Cradle of Filth, Sadistik Execution, Usurper, Nifelheim, Darkthrone, Sodom, Destruction, Morbid Angel, Deicide, Exodus, Dissection, Candlemass, Carcass, Sepultura, Gorgoroth, Death, Watain, Sadus, Satyricon, Enslaved, Pentagram, Jarboe, Immortal, Possessed, Overkill, Ulver, Dark Angel, and countless others.
"From the start, I made Slayer Mag as honestly and as well as I could," says Kristiansen. "I never knew any other way. I hope that I have produced something that will stand the test of time."