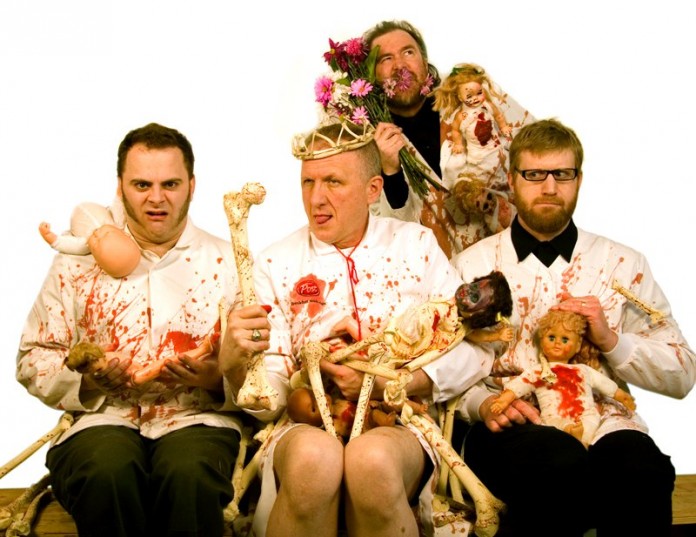 In 2010, Bazillion Points Books released Tesco Vee and Dave Stimson's 574-page tour de force
TOUCH AND GO: The Complete Hardcore Punk Zine '79-'83
, garnering hosannahs from the hoi polloi of hardcore and year-end kudos from
Decibel
,
Spin
, Pitchfork,
Crawdaddy
, and dozens more. This April, like a boogeyman leaping to life from the pages of an adults-only bedside pulp novel, the Dutch Hercules himself Tesco Vee and his merry band of Meatmen return to wreak havoc and return to action the primal offensive creative force that gave birth to
Touch and Go
magazine, Touch and Go Records, and the sweaty armpits of hardcore punk itself. For the entire month of April 2011, Tesco will be terrorizing West Coast book and record stores by day, telling the tales of Rollins, MacKaye, Danzig, and the dawn of the hardcore punk; and by night showing grimy punk dives how it's done with full-color four-dimensional performances by Detroit daddies The Meatmen.In a time before hardcore punk had a name, when GG Allin still sang love songs, before S.O.D. were even stormtroopers, while Gwar were still in Antarctica, Tesco Vee and the Meatmen made sausage from sacred cows. Their horny rants and death dirges sparked protests from every manner of two-legged beast. Now in feather boas and Abba clogs, the platinum topped Tesco Vee still commands a fiercely funny presence with a bag of tricks, props, and costume changes that will make Henry Rollins blush and send Lady Gaga shopping.
Says Tesco: "It is extremely cockle-of-the heart-warming that I can further pimp the Touch and Go tome by day, and rock out with the Meatboys by night. This bestselling brick of a  book transcends one mortal man, but as half of the braintrust of this punk rock manifesto, who better than to lather the legend than me, Tesco Vee? I will give the punters what they want: Danzig anecdotes, tales of record collecting forays, invaluable autographs on their books, photo ops, illicit gropings, you name it!  Just bring your bad selves, your dad's old toys, and a couple sheckles to these in-stores, and we'll take it from there. As my man Don Cornelius used to say: 'It'll be a stone gas, baby!'"
TESCO VEE TALK BY DAY / TOUCH AND GO BOOK IN-STORE DATES
April 5, Denver, CO-Twist and Shout Records, 6PM
April 6, Salt Lake City, UT, The Heavy Metal Shop, 7PM
April 8, Seattle, WA, The Elliott Bay Book Company, 7PM
April 9, Portland, OR, Jackpot Records
April 12, Santa Cruz, CA, Streetlight Records Santa Cruz, 6PM
April 14, Los Angeles, CA, Vacation Vinyl, 7PM
April 15, Fountain Valley, CA, TKO Records, 6PM
April 16, Las Vegas, NV, Zia Records, 6PM
April 18, Phoenix, AZ, Changing Hands Bookstore/Hoodlum Music
April 21, San Antonio, TX, Hogwild Records
April 23, Austin, TX, Waterloo Records, 5PM
April 24, Dallas, TX, Good Records, 4PM
April 25, OK City, OK, Guestroom Records
April 27, Des Moines, IA, Finders Creepers 6PM
THE MEATMEN ROCK BY NIGHT / APRIL 2011 TOUR DATES
Tue. April 5 Denver, CO, Marquis
Wed. April 6 Salt Lake City, UT, Burts Tiki Room
Thu. April 7 Boise, ID, The Red Room
Fri. April 8 Seattle WA, El Corazon
Sat. April 9 Portland OR, Plan B
Sun. April 10 Oakland, CA, Oakland Metro
Mon. April 11 Sacramento, CA, Fire Escape
Tue. April 12 Santa Cruz, CA, Matty Hodel Building
Wed. April 13 Lompoc, CA, Wicked Shamrock
Thu. April 14 Los Angeles, CA, The Airliner
Fri. April 15 Long Beach, CA, Alex's Bar
Sat. April 16 Las Vegas, NV, The Cheyenne Saloon
Sun. April 17 San Diego, CA, The Shakedown
Mon. April 18 Phoenix, AZ, Yucca Tap Room
Tue. April 19 Albuquerque, NM, Moonlight Lounge
Wed. April 20 El Paso, TX, Badlands Billiards
Thu. April 21 San Antonio, TX, The Nightrocker
Fri. April 22 Houston, TX, Walters on Washington
Sat. April 23 Austin, TX, Red 7
Sun. April 24 Dallas, TX, Doublewide
Mon. April 25 Ok. City, OK, The Conservatory
Tue. April 26 St. Louis, MO, The Fubar Angela Rana
Wed. April 27 Des Moines, IA, The Underground
Thu. April 28 Minneapolis, MN, Triple Rock Soc. Club
Fri. April 29 Chicago, IL, Memories
TOUCH AND GO: The Complete Hardcore Punk Zine '79-'83, by Tesco Vee and Dave Stimson. [ISBN 978-0-9796163-8-9] is available now from Bazillion Points Books, America's smallest but heaviest book publisher.