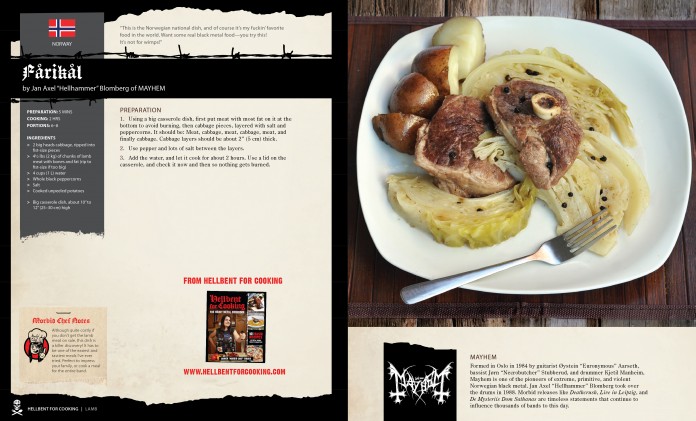 Following our appetizer post featuring Chris Reifert of Autopsy's Mummified Jalapeño Bacon Bombs, this sample recipe from Annick Giroux's beloved Hellbent for Cooking: The Heavy Metal Cookbook arrives just in time for all kinds of religious spring holidays. No matter your stance on crucifixion, only the strict vegans among us can resist seeking salivation at the hands of Hellhammer from MAYHEM's deceptively simple traditional Norwegian Fårikål. A few slices, a few minutes on the stove, and the keys to all seven gates of taste will open wide.
As Hellhammer explains: "This is the Norwegian national dish, and of course it's my fuckin' favorite food in the world. Want some real black metal food—you try this! It's not for wimps!"
Click above to enlarge, expand, print, duplicate, share, and serve. For full info on Annick's book, with its 101 recipes from 32 countries, including bands like Thin Lizzy, Trouble, Mayhem, Gorgoroth, Accept, Slough Feg, The Gates of Slumber, Anthrax, Sepultura, Gwar, Sigh, and many many more… CLICK HERE
And if you're any kind of fan of Mayhem or Norway's metal scene at all, you've probably already preordered METALION: The Slayer Mag Diaries, by Jon Kristiansen. If not, HERE'S YOUR CHANCE.
UPDATE: Bazillion Points offers 15% off the book through the end of Easter Monday 2011 using discount code BLOODYLAMB