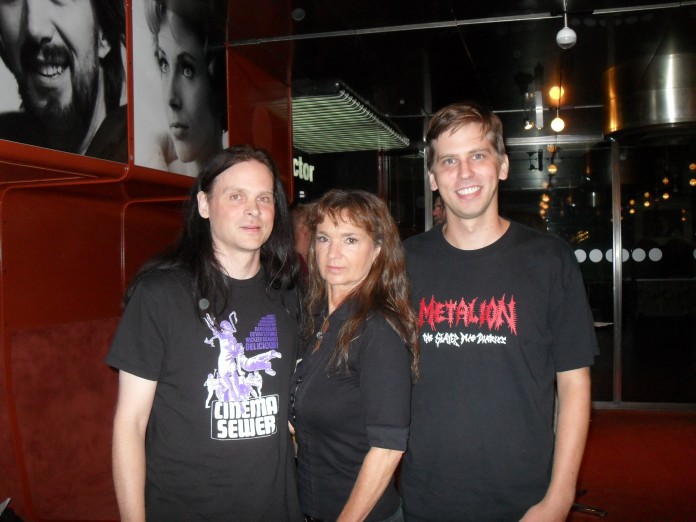 Bazillion Points Books, the Swedish Film Institute, and author Daniel Ekeroth (Swedish Death Metal, Swedish Sensationsfilms) got the ball rolling for the first-ever uncut screening in Stockholm of director Boarne Vibenius' 1973 touchstone exploitation classic Thriller: A Cruel Picture. The uncut film print hasn't been seen elsewhere since the Cannes Film Festival in 1973.
The film's star Christina Lindberg (Exposed, Maid in Sweden) participated in a Q&A afterwards, and then she gamely stood between Daniel Ekeroth (left) and the book's translator, Magnus Henriksson (right).
As outlined in Ekeroth's book Swedish Sensationsfilms, Thriller was a groundbreaking European grindhouse film in the early 1970s which rose to notoriety in the 2000s as the primary inspiration for American director Quentin Tarantino's Kill Bill series. "I love Christina Lindberg," Tarantino said in 2003. "And that's definitely who Daryl Hannah's character is based on. In the next movie, she's wearing mostly black. Just like Thriller…  And that is, of all the revenge movies I've ever seen, that is definitely the roughest. The roughest revenge movie ever made! There's never been anything as tough as that movie."
Daniel Ekeroth will present three other sensationsfilms at the Swedish Film Institute this fall, including Around the World With Fanny Hill and The Language of Love—the infamous Swedish film Robert DeNiro takes Cybill Shepherd to see on their ill-fated date in Taxi Driver.
UPDATE: In the life imitates art department, one elderly couple on a date was spotted at the subsequent Language of Love screening. Bickle lives!