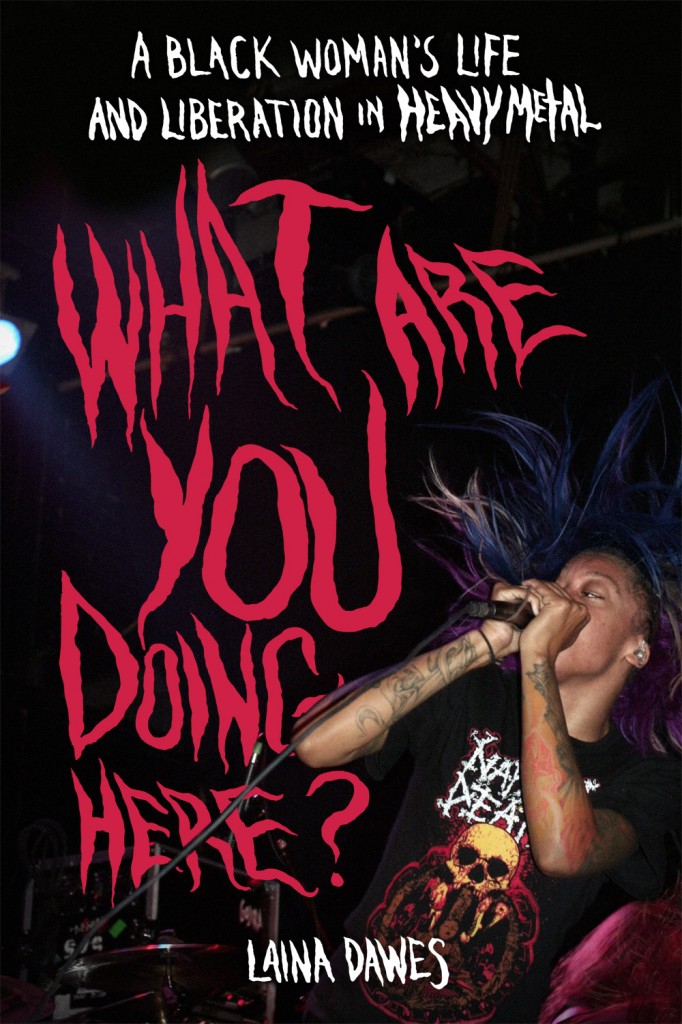 Bazillion Points Books is proud to announce the Fall 2012 release of "What Are YOU Doing Here? A Black Woman's Life and Liberation in Heavy Metal," by Canadian writer Laina Dawes. Combining stories from scores of interviews plus accounts of Dawes' experiences during twenty-five years as a heavy metal fan, this paperback original examines the questions facing black women drawn purely by musical taste into the heavy metal, punk, and hardcore music scenes. Oriented towards aggressive music for its visceral, universal appeal, black women often become double outsiders – oddities in the music scene, then shunned by families and the black community.
In her nuanced, extremely perceptive book, Laina Dawes champions the liberating possibilities of metal while questioning the color-blindness of the metal world, celebrating the role of black women in creating rock music, examining the reaction of the black community to black punks and metalheads, and sorting out the gender issues that complicate sisterhood in a male-dominated sphere. Her thoughtful treatise on the power of music and identity challenges black women in the metal scene to join forces and spark a fresh revolution.
Says Dawes: "I'll be the first to admit that, like any other book, What Are You Doing Here? is partly self-serving. I wanted to find other black women like me: metal, hardcore, and punk fans and musicians that were rabid about the music and culture and adamant about asserting their rightful place as black women within those scenes. I wanted to find other women who put aside the cultural baggage that dictates that we must listen to certain musical styles, and simply enjoy the music that influenced us, not just as black women, but as individuals who grew up in an era when, thanks to technology, a large variety of music is accessible and available to everyone. I found many black women and have shared their stories, but I also realize there is still a lot of work to be done."
Laina Dawes is a music and cultural critic and opinion writer from Toronto. She is an active public speaker and contributor to CBC Radio, current affairs columnist for Afrotoronto.com, and contributing editor for Blogher.org.
What Are YOU Doing Here? will be available worldwide in paperback and ebook formats wherever books are sold, by Bazillion Points Books, "The first and last words in heavy reading."