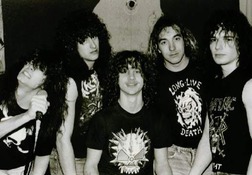 Congrats to Rob Barrett of Cannibal Corpse, who has found a wonderful woman to marry him and is jumping at the chance to tie the knot tightly. The future Irina Barrett obviously sees beyond the blood red herrings of the band's lyrics and loves the beast inside. Instead of a traditional reception with a Journey cover band, Rob lined up a bunch of band reunions, basically resurrecting the late '80s Buffalo, NY, metal underground. Originally the fun was to be limited to family and friends, and the wedding guest list probably encompasses most of the old-timers, anyway, but just in case anyone else wants to climb out of the woodwork, this is now a public happening.
Friday, January 11, 2013
Concert to celebrate the wedding of Rob and Irina Barrett, featuring:

TIRANT SIN (reunion) w/Rob Barrett, Dennis John Glinski, Rich Ziegler, Paul Mazurkiewicz, and Jim Nickles
LEVIATHAN (reunion) w/Rob Barrett, Jim Nickles, Ang LoCoco, Jason Blachowicz, and a guest vocalist
MANIC JASPER (reunion) w/Kevin Peace, Mike Valenti, and Bob Hall
MONARCH (reunion) w/Mike Przbyl, John Goss, Pete Noreika, and Jim Voelker
VILE VINDICTION (current lineup) w/special guest appearance from original bassist Steve Nigro
AXMEN (reunion) w/John Carey, Moe Marciano, Dave MacDonough, and Rock Rollain
MAD POSTURE (reunion) w/John Goss, Steve Nigro, Mike Polito, Pete Noreika, and Jim Osieja
AND: A very special cover band featuring Rob Barrett, Bret Hoffman, Kevin Peace, Jim Nickles, and Mike Valenti
Tickets are $12 advance/$15 day of show
Doors at 7:30PM
Club Infinity, 8166 Main St., Williamsville, NY
Thanks Brian Pattison!