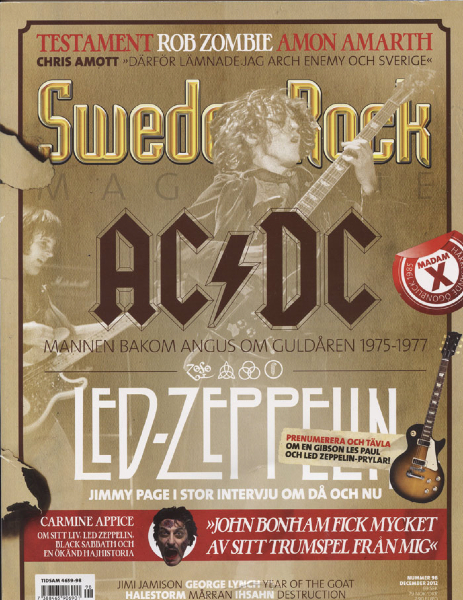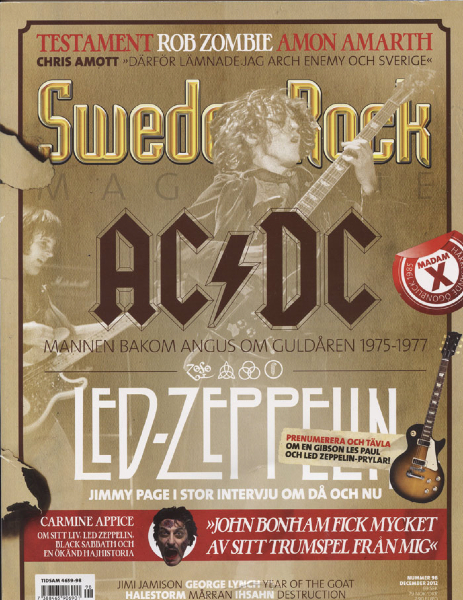 Dirty Deeds author Mark Evans is probably the only known core ex-member of a giant musical entity ever to be invited and then (after already being told to pack his bags), disinvited to join the Rock and Roll Hall of Fame. At this point, that's ancient history, water under the bridge, etc. Anyway, Mark's vindication is now here, thanks to the giant glossy Sweden Rock magazine, a national institution with a much better grasp of the value of a hard rock legacy.
Mark adorns the cover of the December 2012 issue of one of Europe's most obsessive music mags, taking the headline: "The Man Behind Angus in the Golden Years 1975–1977." In a nine-page feature (see low-res gallery below), the first half of a two-issue special, he recaps the recordings of T.N.T./High Voltage and Dirty Deeds Done Dirt Cheap in depth. He also delves into bagpipes, squealers, wrong numbers, and AC/DC's sinful first tour of Sweden; which hilariously was arranged as a quid pro quo on a government level after Australia opened up the gates for an ABBA invasion.
Using death metal demos as bait, Bazillion Points was able to trap some Swedish elves and force them to translate some of the origin stories of classic AC/DC songs:
"It's a Long Way to the Top (If You Wanna Rock 'N' Roll)" from High Voltage: "It started out with Angus trying out a guitar intro in the studio and the band tagging along for a six or seven minute jam. George Young, the producer, the genius, took the material and edited it into a finished song. I don't think AC/DC has performed it since 1977 when I disappeared from the band. The problem was the bagpipe. George got that idea after hearing that Bon Scott used to be in a bagpipe band—but Bon had only played drums, not bagpipes in that band. In the studio, he got the hang of it after a few takes, though."
"The Jack" from High Voltage: "Bon's lyrics are very special. There are two versions of the lyrics: what's on the album, and the first, uncensored, version that Bon sang live. When we recorded the original lyrics, Ted Albert, the owner of Albert Productions, told us that he liked the song but that some words were a bit much, so Bon changed certain lines for the album. But even the cleaner version is equally smart, the way Bon sings about a game of poker and makes it no secret what he's referring to. He was a master of that. There's a song in West Side Story that goes 'Maria-a-a.' On stage, Bon used to include that part in the The Jack, but he of course sang 'gonorrhe-e-a' instead."
"Dirty Deeds Done Dirt Cheap" from Dirty Deeds Done Dirt Cheap: "This song was inspired by one of those cartoon characters that Angus liked watching on TV. The character's name was Dishonest John, and his business card said: Dirty deeds done dirt cheap—holidays, Sundays, and special rates. Bloody fun. I guess only one person didn't like the song, a widow who turned out to have the same phone number Bon sings about: 'Call me anytime, just ring 36 24 36.' Her phone rang off the hook, poor thing. We got lots of attention, apologized, and made sure she got a new number. The Bon records have a lot of songs marked by his special charm. That kind of disarming humor disappeared when he died. We were a very serious rock 'n' roll band, but with a wonderful lighthearted humor."
"Squealer" from Dirty Deeds Done Dirt Cheap: "I remember the girl Bon wrote this song about. He's said that it's about a virgin—at least until she met him, of course—but that's not true. She made peculiar sounds when having sex. I know, since I dated her for a while. After that she was with Phil Rudd for a spell."
"Ride On," from Dirty Deeds Done Dirt Cheap: "If there is any song I would call semi-autobiographical for Bon Scott, it's this one. He felt very lonely on tour. His emotions really shine through in the lyrics. We never played it live, but other artists have. Eric Burdon has a version, and Norah Jones performs it as an encore."
Right on! More Mark Evans to come, including song-by-song memories of Let There Be Rock, in the next issue of Sweden Rock.
[nggallery id=4 ]
DIRTY DEEDS: My Life Inside/Outside AC/DC, by Mark Evans