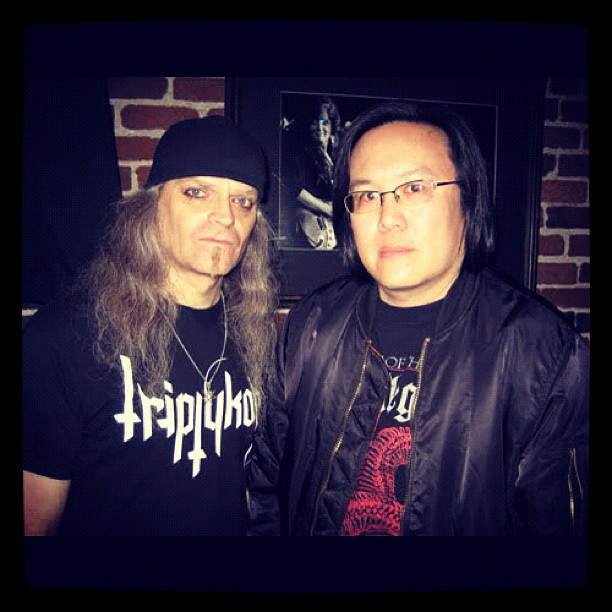 From the bottomless archives of Brian Lew comes this photo of a mighty Bazillion Points author summit not long ago in San Francisco. Murder in the Front Row author Lew and Only Death is Real creator Tom Gabriel Fischer had never met in the flesh, but they shared one of those 28-year bonds forged in underground metal.

Says Brian Lew:
"On page 109 of Only Death Is Real, Tom Warrior recounts sending copies of the first Hellhammer demo to fanzines in Europe and the U.S. One of the American fanzines he mentions is Whiplash, the zine I did in San Francisco with my friend Sam Kress. Fast forward to October 2010 and Triptykon visited San Francisco to play a show on their debut U.S. tour. When I arrived at the venue I noticed Tom standing by the merch table so I went up to him and this happened:
Lew: 'Do you remember the zine Whiplash?'
Tom: 'Of course I do…'
Lew: 'That was my zine…'
Tom: 'Are you Brian?'"
Warm and instantly familiar greetings ensued (stoic faces in this shot notwithstanding)! As for Lew's original back-in-the-day assessment of Fischer's groundbreaking band Hellhammer, READ IT HERE. Sample praise: "With this band, musical competency is sacrificed for brute power!"
Now the bonus level revelations about the early days of truly heavy metal are available to everybody. Just lay copies of Murder in the Front Row and Only Death Is Real side by side—and Metalion: The Slayer Mag Diaries, for that matter, which intersects the same subject matter—and check out what was happening in the thriving S.F. Bay Area with Exodus, Slayer, and Metallica, versus what independent strides Fischer and his comrades in Hellhammer were making 6,000 miles away in their Swiss village.