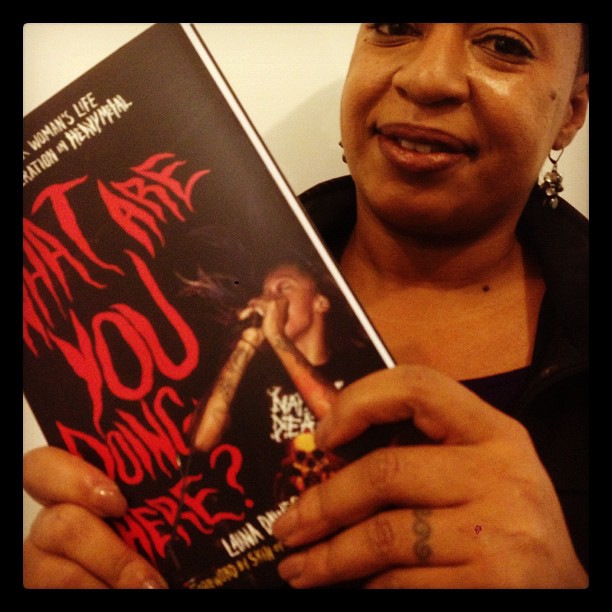 Several years ago, Laina Dawes had a lot of ideas, and she had an experience—decades of heavy metal fandom as a black woman. Today she has a book, What Are You Doing Here?: A Black Woman's Life and Liberation in Heavy Metal, that lays out her metal upbringing and the constant clashes that have come with it. When you lay yourself on the line like Laina has, you never know how the world will react. Turns out the press likes her book a LOT. Publishers Weekly, the Toronto Star, PopMatters, Razorcake, and Albert Mudrian from Decibel have all been exercising their up-pointing thumbs.
An especially big blammo comes from The Onion A/V Club—the serious part of the paper, as Marge Simpson found out last week. In a lengthy review of this year's music memoirs, the Neil Young, Pete Townshend, and Tony Iommi autobiographies are heavily panned; and upstaged by newcomer Laina Dawes:
"As Iommi unleashes his ponderous, sloppy memoir upon the world, another player in the metal scene—albeit a microscopic one by comparison—is sliding in under the radar. Laina Dawes' What Are You Doing Here? is a strikingly more powerful, penetrating, and passionate look at metal than the one written by the guy who arguably invented the genre. Dawes…has a potent perspective—and well-expressed views—on how black women must fight to be accepted in a music scene that prides itself on being a haven for outsiders. [B]rave, engaging, and unique—[her book] reaches far beyond the confines of her own skin in its search for context and meaning."
Hey, as far as we know Laina Dawes doesn't own a Gibson SG, she's never been engaged to Lita Ford, she didn't know John Bonham… but she just bit off her own piece of heavy metal immortality.